5 Tips to Help Online Students Get Organized for Class
5 Tips to Help Online Students Get Organized for Class
Posted October 03, 2019 by AIU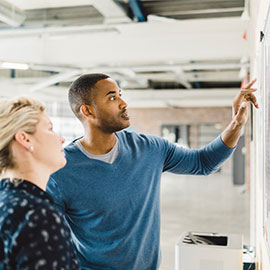 A key piece of successful online learning is organization. When you plan and anticipate problems, you can minimize disruptions and improve your work time. Consider the following tips to help prepare for your classes while balancing work and personal commitments:
1. Get your family on board.
Pursuing a degree as an adult student is not a simple task, but having people in your life who inspire and support you can help make the process less stressful. Tell your family members and friends why earning a college degree is important to you and make sure they understand what this commitment means. Before starting a new quarter, communicate your expectations and share your study schedule so your family and friends know what to expect and can help you.
2. Set your schedule.
An essential part of staying organized is keeping a calendar. Whether you buy a paper planner, download an app, or plan on a whiteboard, recording your appointments and due dates can limit scheduling conflicts.
As soon as you get your course syllabus, record all important due dates on your calendar. Also, set reminders leading up to these dates so you can work ahead of your deadlines. Then, if something unexpected happens and disrupts your plans, you won't scramble to complete an assignment at the last minute.
Color code dates to identify different commitments. For example, list all school-related entries in one color and work or family-related entries in another. Include meal plans, homework and break times, and dates for grocery shopping and running errands. You might organize weekly chores such as who puts away dishes, folds laundry or dusts as well.
Remember to include break times when you build your schedule. Overloading your day without downtime can lead to exhaustion and discouragement, but doing something you enjoy can refresh and reenergize your body.1 Set a time for exercise, reading or visiting a friend.
3. Define and stock your study space.
If you haven't mapped out an area in your home for studying, pick a spot that works best for you. Think about the environments that encourage you to be productive. For instance, maybe you work well with minimal distractions or background noise and can study at your kitchen table. Or, perhaps you need isolation to concentrate. Test different areas to determine your needs.
Once you define your study space, make sure you have access to high-speed Internet and any supplies you might need to complete course assignments–paper, pens, highlights, folders, etc. Do you have a desk or table to work on and headphones for listening to lectures or group chats? Are your course syllabi and textbooks accessible? Is there adequate lighting and seating in your space for comfortable reading? Consider each of these questions to help reduce study time disruptions and promote production.
4. Talk to your professors.
Sometimes, organizing means planning for the future. If you establish relationships with your professors now, you might reap the benefits later. For instance, you'll feel more comfortable asking for help or letters of recommendation. Also, their knowledge and connections might direct you to internships, job leads or professional networking circles later in your college journey.
5. Keep track of important financial information.
Being a college student can require utilizing the Free Application for Federal Student Aid (FAFSA) and filing important tax papers.* Simplify the process by keeping your FAFSA and tax information in one place, such as a folder or three-ring binder. If you complete the online FAFSA form, include your login and FAFSA pin number with this information so you're prepared to reapply the following school year. If you need additional help, your AIU financial aid advisor can also assist you with the process.
Pursuing a college degree as an adult is a big commitment. It requires communication, planning, and organization. Be proactive and take time to prepare so you can limit potential problems and optimize your working time!
Are you looking for more information about online classes at AIU? Request information today!
---
1. "Recharge Your Personal Battery with These Activities." Healthline. Retrieved from: https://www.healthline.com/health/how-to-recharge#mental-recharge (Visited 09/22/2019).