Going to College After Military: 5 Steps to Succeed
Going to College After Military: 5 Steps to Succeed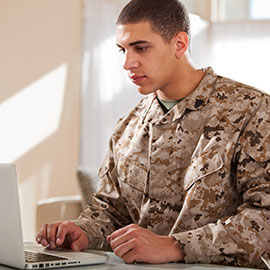 Pursuing a college degree is an experience that can help shape the next stage of your life. But transitioning from military life to college can be challenging. You might be concerned about the change or unsure where to start. Don't worry! These are common feelings shared by many transitioning military students. With a bit of planning and an open mind, these five steps may be what you need to begin this next stage of your life.
Step 1: Determine your military benefits.
College is a wonderful opportunity. However, it can be expensive. Since you have served your country, there are various military benefits for which you may qualify. Talk to your Education Services Officer about your financial aid options like Tuition Assistance (TA), Top-up benefits eligibility, military college credit, and your GI Bill® benefits eligibility.
Step 2: What career path suits you best?
When you go back to school, you should choose a program that aligns with the career path you want to pursue. If you excelled in your military occupational service (MOS) while serving, then you might want to pursue the civilian counterpart. Or, maybe you want to try something new. Many new students take core classes before deciding on a major, so there's no need to panic. AIU's Military Admissions Advisors can help answer your questions and offer you information as you pick a degree program that best fits your goals and interests.
Step 3: Be an active participant.
As you transition from military life to civilian life, you may experience feelings of seclusion or isolation. This is not uncommon. As a new college student, look for opportunities to join a club or organization. AIU's GetSet Community can connect you with fellow military students or other like-minded people.
Step 4: Keep an open mind!
Your outlook on life may differ from what it was before you joined the military. As a result, your thoughts and perceptions may vary from those of your classmates'. Remember, this doesn't make your opinion or someone else's opinion wrong; learning from an instructor and your peers or community is part of the college experience. Rather than reject each differing opinion or idea, embrace them.
Step 5: Develop a routine and study habits.
Structure and self-discipline are significant parts of a service member's life. Your experiences have taught you to act when you don't want to, when it's hard, and when no one is looking. Use these skills to your advantage to develop a routine and successful study habits. Doing so can help ease your stress and drive your motivation for success!
AIU recognizes the sacrifices servicemembers make. This is why we focus on the unique needs of active duty, Reserve, and National Guard students, as well as veterans, military spouses, and families. If you have questions about the military-friendly education programs at AIU, request more information today.
---
AIU cannot guarantee employment, salary, or career advancement. Not all programs are available to residents of all states. GI Bill® is a registered trademark of the U.S. Department of Veterans Affairs (VA). More information about education benefits offered by VA is available at the official U.S. government Web site at www.benefits.va.gov/gibill.

REQ1510112 2/2020