Operations Management Degree Online Program Details
Estimate Tuition and Grad Date

Total tuition for this degree program may vary depending on your educational needs, existing experience, and other factors.

Estimate your costs, potential savings and graduation date.

Operations Management Degree Online Program Outline

If you're looking to develop your knowledge of business operations, it's beneficial to earn an accredited business degree in operations management online from AIU. We offer the flexibility you need to fit a degree into your busy lifestyle. The Virtual Campus at AIU® is available 24/7, so you can learn at your own pace.

Explore how to develop, improve, and manage production and transportation of products and services, and how to command a team. Online operations management classes may teach you how to oversee supply chain, materials, production, distribution, and more. Specialized courses include cost control management, global operations management, production planning, purchasing, and strategic manufacturing policy.

AIU's accredited business degree with a specialization in operations management program is designed to help you improve upon leadership, decision-making, critical-thinking and problem solving skills. Our operations management courses online covers theories of management as well as ethical and legal issues.

Requirements to complete an online bachelor's degree in operations management include general education courses, general electives, and core courses. You need a total of 90 credits to complete this program.

AIU provides students with convenience, flexibility, and support to accommodate busy lives. We offer full and part-time program options and transfer-in credit for eligible college, work, and military experience.1 This could reduce the time it takes to earn a degree and save you money in the process.

Download program detail PDF

---

1. Transfer credit is evaluated on an individual basis. Not all credits are eligible to transfer. See the University Catalog for transfer credit policies.

Operations Management Courses

Degree Requirements

General Education

Credits

| | | |
| --- | --- | --- |
| ECON220 | Microeconomics | 4.5 |
| ECON224 | Macroeconomics | 4.5 |
| ENGL106 | English Composition I | 4.5 |
| ENGL107 | English Composition II | 4.5 |
| MATH125 | General College Mathematics | 4.5 |
| UNIV103 | Academic and Professional Success | 4.5 |
| UNIV106 | Technology and Information Literacy | 4.5 |
| UNIV109 | Interpersonal Communication | 4.5 |
| | General Education Elective (1 Course) | 4.5 |
| | Humanities (2 Courses) | 9 |
| | Natural Sciences (2 Courses) | 9 |
| | Total Credit Hours: | 58.5 |

| | | |
| --- | --- | --- |
| ACCT205 | Principles of Accounting I | 4.5 |
| ACCT310 | Managerial Accounting | 4.5 |
| BUSN105 | Introduction to Business | 4.5 |
| BUSN311 | Quantitative Methods and Analysis | 4.5 |
| BUSN150 | Legal and Ethical Environment of Business | 4.5 |
| FINA310 | Financial Management | 4.5 |
| MGMT305 | Management Information Systems | 4.5 |
| MGMT310 | Management and Leadership of Organizations | 4.5 |
| MGMT315 | Survey of Human Resource Management | 4.5 |
| MGMT499 | Program Capstone | 4.5 |
| MKTG205 | Principles of Marketing | 4.5 |
| | Total Credit Hours: | 49.5 |

General Electives

Credits

A combination of 11 electives dependent on Program

Students enrolled in the Fashion Marketing Specialization Option are required to take: FASH 212, Historical and Contextual Studies, in place of HUMA 215 Topics in Cultural Studies; and FASH 209, Fashion Cycle, in place of one General Elective.

General Business Administration Track

Credits

In lieu of a Specialization, select 5 Business Electives from any of the Specializations below

Operations Management

Credits

MGMT370
Cost Control Management
4.5
MGMT415
Global Operations Management
4.5
MGMT430
Production Planning and Quality Management
4.5
MGMT450
Supply Chain Management and Purchasing
4.5
MGMT465
Strategic Manufacturing Policy
4.5

Total Credit Hours : 180

AIU's Bachelor of Business Administration (BBA), with all its specializations, is programmatically accredited by the Accreditation Council for Business Schools and Programs (ACBSP).

Operations Management Classes Overview

For an Operations Management Degree Online, your classes may include:

Production Planning and Quality Management

This course focuses on Production planning and Quality in decision making. Emphasis is laid on forecasting aggregate production planning, capacity planning, materials requirement planning, scheduling, advanced techniques and approaches in modern production planning and control for designing manufacturing, quality and service systems.

Cost Control Management

This course deals with the control of the various costs associated with running a business. The course is broken down into three phases: comparing a company's costs to the industry average, finding out why a company's costs are higher than the industry average and implementing approaches to reduce a company's costs. Specific topics include: Materials Management Challenges, Benchmarking, Inventory Control and Management, Production Processes, Lean Manufacturing and Waste in Manufacturing.

Supply Chain Management and Purchasing

This course explores the basic principles of supply chain management in modern organizations. The subjects include key areas of supply chain management such as supply chain economics, supply chain strategies, e-procurement, logistics management, global supply chain issues, vendor selection, and measurement of supply chain performance.

Global Operations Management

This course explores basic operations management in modern organizations which involves design, management and improvement of productive processes. Subjects include critical path methods (CPM), PERT Charts, Resource Allocations, Gantt Charts, budgeted cost of work scheduled, budgeted cost of work performed, actual cost of work performed, and projects associated with services and the manufacture of products including fast delivery to the ultimate consumer.

Strategic Manufacturing Policy

This course explores the relationship of existing and emerging processes and technologies to manufacturing strategy and supply chain-related functions. The course addresses three main topics: aligning resources with the strategic plan, configuring and integrating operating processes to support the strategic plan, and implementing change.

Quantitative Methods and Analysis

In this course, students will learn the fundamentals of probability, statistics, and their applications in business decision making.

Management and Leadership of Organizations

This course examines the elements of management and leadership as they apply to modern organizations. Special emphasis is placed on organizational change, role of managers, and cultural differences found in today's management environment.

Management Information Systems

This course focuses on management of information systems. Topics include resources, information systems in an organization, social implications and use and evaluation of common microcomputer software packages.

Program Capstone

The emphasis in this course is on applying and synthesizing concepts and techniques from all previous business/specialization courses. The class sessions are designed to familiarize students with the many dimensions of business, with special emphasis on the area of specialization.

Ways to Save on Your Online Operations Management Degree

Accreditation

This business program is programmatically accredited by the Accreditation Council for Busines Schools and Programs (ACBSP).
Take the
next step.
Classes start
December 16, 2020!
Complete this form and an AIU Admissions Advisor will contact you and provide further assistance.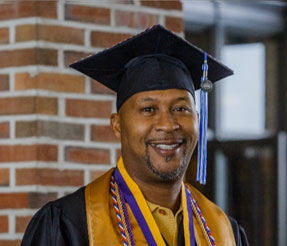 "The online option attracted me to AIU. The online atmosphere was great. AIU provided the tools and all the different resources to help me be successful in my degree."
- Anthony Wheatley
MBA 2018
BBA 2015