Our career-focused degree programs are designed to provide students with the foundational skills required to apply their creative vision in the real world. AIU's media production and fashion design degree curricula give students an opportunity to build a portfolio of their best work to help showcase their capabilities.
AIU's Degree Program Benefits
For the creative who is interested in studying film, audio, or both—AIU's media production degree programs are designed to teach you industry-relevant applications, techniques, and programming languages. Our undergraduate degrees and certificate programs can give you the opportunity to learn about current media production business practices and skills through a variety of team-based, hands-on coursework.
In AIU's fashion design and marketing degree programs, aspiring fashion designers can explore how to buy, sell, manufacture, promote, and market apparel. Fashion majors will work toward developing strong foundational knowledge of industry-relevant techniques and technologies, as well as how to apply these skills using real-world processes.
The following are just a few of the benefits you'll have as an AIU student:
Students can read, listen to, or watch customized course content from any web enabled device in our convenient and flexible course options.
Tuition and graduation date calculator provides an estimate of how much it may cost you to complete a media production or fashion design degree program at AIU based on the information you provide.
intellipath® allows you to customize your learning plan and skip what you already know, leading to a more personalized educational experience.
A 24/7 technical support team is available to help you any time, day or night.
Career services resources and tools available to help keep you up to date on employment trends and provide you with job search strategies, resume writing assistance, and networking opportunities.
Fashion Design and Marketing BFA
Fashion majors at AIU can earn a Bachelor of Fine Arts in fashion in one of two specializations: fashion design or fashion marketing. Students in these fashion degree programs have an opportunity to learn how to communicate their ideas and promote their work effectively in the contemporary fashion marketplace. Courses cover key subjects such as digital merchandising, costume design, and styling, all as part of a career-focused, specialized curriculum with a focus on portfolio development for pursuing careers in the fashion design field.
Specialization in Fashion Design
Our fashion design degree specialization's curriculum provides in-depth coverage of clothing design and construction from concept to creation, providing fashion majors with the opportunity to learn about textile science, fabric selection, ornamentation, and fashion trends, as well as providing specialized training in computer-aided design illustration.
Specialization in Fashion Marketing
Our fashion marketing degree specialization is designed to provide an in-depth understanding of the structure and operation of the fashion and retail marketing industry. Required courses cover critical fashion marketing subjects, such as customer targeting, product development, branding, buying, and visual merchandizing.
Media Production BFA
Whether you choose to specialize in audio recording and sound design or digital film and post-production, AIU's media production degree program provides core courses covering film and audio production essentials for a well-rounded educational experience. Students are able to study fundamentals of the media industry and various aspects of digital media creation. AIU's audio recording and sound design curriculum is focused on music production and sound design, while the digital film and post-production curriculum is focused on analyzing, directing, and producing films.
Specialization in Audio Production
Our music production degree program specialization specifically focuses on audio and electronic music production, general media management, editing and computer animation, and special-effects production. In this curriculum, you can study how to record, sequence, and edit your own music, learn to create and mix sonic landscapes, and explore a variety of music subjects.
Specialization in Film Production
Our film production degree specialization centers on digital film and post-production. The curriculum gives you an opportunity to understand the process of film production, with an emphasis on screenwriting, motion picture photography, lighting styles, and directing. You may also examine the director's role during production while exploring other techniques.
Audio and Sound Recording Certificate
Our Audio and Sound Recording Certificate can be completed in eight months and provides an introduction to the technical and creative skills required in the audio and sound recording industries. Through this intensive program, you can work to develop your sound recording, post-production, producing, and engineering skills. Along the way, you may also have the opportunity to earn third-party certification in various industry-relevant software applications.*
Digital Filmmaking Certificate
Our digital filmmaking certificate program is designed to provide a comprehensive overview of the technical and creative disciplines in digital media production. In this intensive program you can study how to develop, write, and produce a variety of short film projects while exploring all stages of motion picture production. You may also explore production management, screenwriting, camera operation, lighting, audio recording, and video editing.
Admission and Degree Completion Requirements
No SAT or other standardized test scores are required for AIU's fashion design programs or media production programs. Proof of high school graduation or an equivalent program (i.e., official high school transcripts, high school diploma, or GED certificate or transcript) must be provided for formal acceptance into AIU's design programs. Homeschooled students should contact an Admissions Advisor for information on additional documentation requirements. Our FAQ page is a handy resource for answering many common questions regarding undergraduate admissions, but one of our Admissions Advisors is here to help you if you need additional information.
Students pursuing a fashion degree or media production degree at the bachelor's level must successfully complete 180 credit hours, and those pursuing a certificate in audio and sound recording or digital filmmaking must successfully complete 27 credit hours. Prior learning credit that can be applied toward earning a degree may be available to certain students for eligible life and work experience.1
Accreditation and Awards
American InterContinental University, AIU, is part of the American InterContinental University System, which is accredited by the Higher Learning Commission (hlcommission.org), a regional accreditation agency recognized by the U.S. Department of Education. Additionally, U.S. News and World Report has again named AIU among the list of its Best Online Bachelor's Programs, while the Military Times ranks AIU among its 2021 Best Colleges lists.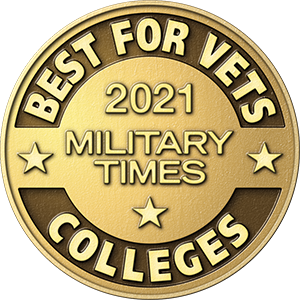 Save Time and Money
Receiving prior learning credit can allow you to earn a degree at a faster pace and a lower cost. Students may qualify to transfer credit from other post-secondary institutions and apply that credit toward earning their BFA in media production or fashion design or a design certificate. AIU permits qualifying students to transfer up to 75 percent of the credits necessary to complete a bachelor's degree program,1 making it possible graduate with a BFA in as few as nine months.2 Students who have completed design certificate programs or other relevant company training may qualify for proficiency credit awards, and those with military experience may be eligible to receive credit for prior military training.1
Additionally, American InterContinental University offers 15 scholarships and grants to help lower your out-of-pocket cost, and all applicants are encouraged to research and apply for various kinds of financial aid for additional saving options. Our tuition and graduation date calculator is a helpful tool for estimating your anticipated costs and graduation date based on your personal circumstances.
Why Choose a Design Degree or Certificate at AIU?
Going back to school is a life-changing decision that requires a great deal of time, commitment, and motivation, and can bring along with it a set of conflicting emotions such as excitement and stress. Learning to juggle work, personal obligations, unforeseen obstacles, and school can at times be challenging and sometimes you may fall behind, but it's important to stay focused on your goals in order to complete your media production or fashion degree. AIU offers an experienced faculty, a knowledgeable technical support team, and a community of students with whom you can build relationships, all of which can help support you in times of need. And if you need assistance during your job search, our career services resources offer workshops, training, and career planning sessions, as well as recruitment opportunity events, to help guide you in your quest to find your desired career path. So no matter where you are on your educational or career journey, AIU aims to provide the resources you need to help you stay the course.
---
1. Transfer credit is evaluated on an individual basis. Not all credits are eligible to transfer. See the University Catalog for transfer credit policies.
2. AIU's bachelor's degree programs are designed as 48-month programs; however, many factors could impact your time to completion, including course loads, proficiency, and/or transfer credits and breaks.
Take the next step. Classes Start January 10, 2024
Complete this form and an AIU Admissions Advisor will contact you and provide further assistance.
AIU Success Stories: Meet Ramon, Lori & Amanda
"I have the edge because I feel like I have the backing of AIU. I have that reputation, that rapport, that AIU helped build. I can go into any interview for any position I want and I have that confidence."
"The attitude at AIU was, 'This person is going to be successful. ... By any means necessary we're going to make sure they're successful as long as they are willing to put the work in."
"If I wouldn't have gotten my education, I'd still be stuck at the point where I couldn't progress any further. I would still be stuck there wondering if there was a way out."
A Flexible Degree Designed to Fit A Busy Life
Real-World Education
You'll study under faculty(Link to AIU Faculty page) who are experienced professionals, learning relevant skills, fundamental practices and useful knowledge in the field.
Career Support
Our
career services
resources can help you with job search strategies, résumé writing, practice interviews, networking opportunities and more.
*Transfer credit is evaluated on an individual basis. Not all credits are eligible to transfer. See the University catalog regarding AIU's transfer credit policies.

**As an bachelor's degree program, this program is designed as a 48 month program; however; many factors will impact your time to completion, including course loads, proficiency and/or transfer credits and breaks.