Online Master's in Adult Education Program Details
Estimate Tuition and Grad Date

Total tuition for this degree program may vary depending on your educational needs, existing experience, and other factors.

Estimate your costs, potential savings and graduation date.

Online Master's in Adult Education Program Outline

The role of instructors, instructional designers and curriculum developers has changed dramatically over the past decade. Today, education focuses on ensuring that educational programs help learners understand abstract concepts, solve problems, work as effective team members and develop critical-thinking skills. AIU's Online Master's in Adult Education degree program is designed to provide a solid foundation for effective educational practice and advancement for all levels of educational practitioners. Students could develop a solid foundation in learning theory, instructional design and instructional technology, as well as application of educational research methods.

This professionally-focused Master's in Adult Education program is designed to help students utilize authentic tools and assessment in application of learning outcomes, such as Lectora. They can also explore how to collaborate in a community of learners for professional application of skills and study the importance of asking the right questions in order to prompt efficient and effective answers. This one-year online Master's in Education program is designed to help students get the in-depth, specialized knowledge they want—compressing their studies into a shorter timeframe, but still providing the knowledge and credentials they're looking for.

Our Online Master's in Adult Education program can help you learn you how to:

Use appropriate methods to analyze and document needs of adult learners in academic and organizational settings
Apply andragogical theory along with appropriate motivation theories in the design of learning events for adults, both individual and groups
Illustrate methods and processes associated with a range of remedial to advanced adult learners for successful learning results
Develop safety and security procedures that should be in effect for adult learning events and activities, including classroom sessions, on-the-job training, individual one-on-one training or tutoring, laboratory sessions and field learning events
Develop an evaluation plan for both individual as well as classroom-based learning events, including formative and summative evaluation, applying at least one recognized model for evaluation of learning and a recognized model for return on training investment
Apply behavioral and educational theories to evaluate adult learner needs and areas of improvement
Develop an evaluation and assessment plan for individual adult learners, understanding how to tailor different elements of instruction and assessment to meet the needs of each learner
Gain understanding of the specific challenges and academic professional standards relevant to adult learning
Adapt to the range of adult learners, from remedial to advanced, and design instruction and assessments responsive to all levels of learners

Download program detail PDF

*American InterContinental University's Master of Education degree is not designed to meet state educator licensing or advancement requirements; however, it may assist students in gaining licensure or advancement in their state of residence depending on those requirements. If you're interested in teaching certification or advancement, please contact your state board of education for requirements.

Online Master's in Adult Education Courses

Degree Requirements

Division Core

| | | |
| --- | --- | --- |
| EDU602 | Analysis, Assessment, and Technology | 6 |
| EDU604 | Integrative Design and Evaluation | 6 |
| EDU622 | Applying Learning Theories | 6 |
| EDU624 | Mastery in Educational Specialty | 6 |
| | Total Credit Hours: | 24 |

Adult Education and Training

EDU652
The Art and Science of Learning
6
EDU656
Characteristics of Adult Learners
6
EDU662
Designing Instruction for Adult Learners
6
EDU667
Facilitating & Assessing Adult Learning
6

Total Credit Hours : 48

Online Master's in Adult Education Classes Overview

This course provides an introduction to the various schools of thought on how people learn. The course will emphasize the practical implications of cognitive science. It provides a comprehensive survey of the progressive understanding of the learning process. Learners will explore learning theories, such as cognitive, behaviorist, and constructivist. Learners will compare the theories and their application in the learner's respective field using the appropriate formal written communication for the discipline of Education.

For an Online Master's in Adult Education Degree, your classes may include:

Integrative Design and Evaluation

This course examines the development of curricula for education and workplace learning and development. Comparison of evaluation design, curriculum design, and instructional design will assist learners in understanding the similarities and differences in these fields of education. Learner will learn to develop learning objectives. Program evaluation techniques will be introduced.

Mastering Educational Specialty

This capstone course will allow the learner to demonstrate mastery of all the concepts and skills presented in the core courses and specialization courses in the learner's field of study. The emphasis will be on designing and producing a real world quality deliverable in the specialization studied to be used as a highlight in a professional portfolio.

The Art and Science of Learning

This course provides an introduction to the various schools of thought regarding how people learn and apply their learning to concrete situations. It provides a comprehensive survey of our progressive understanding of the learning process. Students will explore developmental, behaviorist, cognitive, social, and adult learning theories as well as the research regarding the role of motivation and transfer of learning in novel domains.

Characteristics of Adult Learners

This course content includes theories of adult learning, including andragogy, adult developmental stage theories, and action learning along with focus on assessment of learning needs and evaluation of education and training outcomes among adult populations.

Designing Instruction for Adult Learners

In this course, students will learn instructional design for various venues, groupings, and situations common to adult learning environments, such as vocational classrooms, field training, individual and group learning. Topics ranging from technical skills to management training and education will be included.

Facilitating and Assessing Adult Learning

In this course, students consider the delivery of education and training, and conduct a lesson based on adult learning theory and topics. Course includes coverage of tools for engaging adult learners, conducting classes in unfamiliar circumstances, and classroom management appropriate to adult audiences.

TEAC Accreditation

The Master of Education Program at American InterContinental University is awarded accreditation through TEAC Quality Principles by the Inquiry Brief Commission of the Council for the Accreditation of Educator Preparation (CAEP) from October 2015 – April 26, 2019.

The accreditation does not include individual education courses that the EPP offers to P-12 educators for professional development, relicensure, or other purposes.
Take the
next step.
Classes start
March 27, 2019!
Complete this form and an AIU Admissions Advisor will contact you and provide further assistance.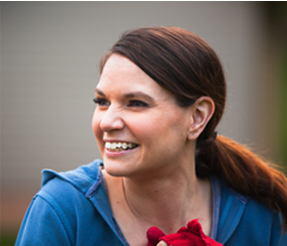 "I don't think I would have the life that I have right now if I would not have gone back to AIU and finished my degree."
- Amanda Schmeichel,
BBA 2015
BBA 2015
Gainful Employment and Other Student Disclosures
Below you can find placement rates and other information tailored to your chosen campus and program. Certain disclosures are published on this website to assist students in understanding the facts about their programs.
Program Disclosure Information for:
-- Select Campus Above --
Program Disclosure Information for:
AIU Atlanta - Master of Education
Program Disclosure Information for:
AIU Online - Master of Education
Select a campus for rate information.