Creating a Peaceful Study Space for Online Learning
Creating a Peaceful Study Space for Online Learning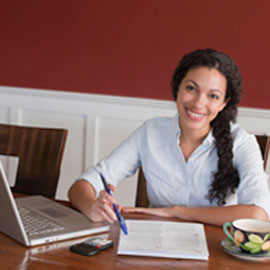 Let's face it: School and online learning require a significant investment of time. If you're going to devote that kind of energy and effort to an activity, the place where you do it should matter. By creating an environment that gives you something to look forward to, rather than dread, studying can feel less like an obligation and more like time you're devoting to yourself.
Besides, your study habits are inextricably linked to your educational success. Sure, it's easy to focus on things like note-taking and projects — these are important aspects. That said, so is the environment where you do the work itself.
Start by figuring out where you study best. Then, find ways to create a space that works for you.
Make It Inspiring
The cardinal rule when designing a study space is to make sure it's both inspiring and free of distractions. Whether you study best with or without music, prefer calming colors or evocative art, the things you surround yourself with should provide motivation, help keep your mission on track and give you an oasis from the outside world so your focus remains intact.
---
RELATED: Who Should Consider an Online Degree?
---
Keep It Functional
Be sure all of the supplies and essentials you require to get the job done — a daily planner, desktop or laptop computer, pens and a notebook — are close at hand. By keeping your space organized, with everything you need within arm's reach, you limit the likelihood of unnecessary, time-wasting study breaks.
Make It Comfortable
Key to creating a successful study space is considering the things that make you most comfortable. Maybe that's a scented candle, stocked mini-fridge or your favorite snack. Whatever your preferences, incorporate them. Just make sure the things you choose keep you alert. Good lighting, not mood lighting, is a great place to start.
Personalize It
You want your study space to feel like an extension of who you are. So, don't be afraid to incorporate pictures of loved ones, artwork and objects. Just be careful not to overdo it to the point of distraction. The goal is to design an environment that is both welcoming and clutter-free.
Get Out and About
Even when your at-home study space feels sublime, don't be afraid to switch things up. It keeps things interesting and your mind fresh. Head to your local coffee shop for a pick-me-up and change of scene. When the weather is warm, work on the back deck or hit the park for a bit of outdoor action. A little change every so often can help keep you engaged and on your toes.
---
Looking for related posts? Find more tips on how to make going back to school work for you.