5 Tips to Help You Prepare for Online Colleges and Classes
5 Tips to Help You Prepare for Online Colleges and Classes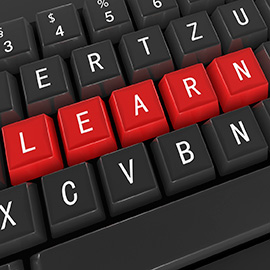 When we think about preparing for college, many traditional students often think about decorating a new dorm or learning to navigate a huge campus. But those aren't issues for people attending online colleges. At an online university, the campus and the classroom are right at your fingertips, on your school's web portal. But there are still things that online students can do to ensure that the first day of college — and the rest of their educational journey — goes smoothly. Read on to find out how to prepare for the technical side of online college.
1. Get equipped. Each school has different requirements for logging into classes. Check your school's hardware requirements and recommendations before you invest. These can inform you information about what you need in terms of operating systems and versions, memory and storage space, media devices, Internet connection speed, a Web browser and more.
2. Take a tour. Just like at a traditional college, you are going to want to become familiar with your online campus before classes begin. Once you enroll at an online school, you will likely get a welcome kit with login information and an invitation to your online campus orientation. Practice navigating your online campus as much as you can in the weeks leading up to your first day and take advantage of opportunities to submit pratice assignments so you can become familiar with the platform and get assistance from your college support team.
3. Get to know the software you'll be using. As an online student, you'll be using many of the apps and software programs professionals use every day in the workplace. This is a great opportunity to bring yourself up to speed on the computer skills you'll likely need in the future. The fastest way to learn is to get the programs and use them as much as possible. If you are truly a novice with programs like Microsoft Office or messaging software, check with your student advisor to find out whether your school offers software tutorials so you can get started on them ahead of time. If you run into snags, contact your school's support team for more direction.
4. Download and test apps or software. The key to being a successful online student is to be prepared. Don't wait until the night before classes start to download apps or software you need for class. Online schools will provide the minimum system requirements you need to access your online portal. Be sure your software, apps and system requirements are all updated and in place at least a week before school starts.
5. Get acquainted with tech support. Don't be afraid to ask for help, and don't be afraid to ask questions as you get to know your online college campus. During one of AIU's recent Serious Talk Webinars, MBA graduate Zina Rios encouraged students not to be shy about asking for technical help. "I'm sure everyone at AIU tech support department knows me," she said with a smile. Most students have questions, and the sooner you get help, the sooner you can concentrate on your studies. Program the phone numbers of your school's technical support hotline and your student advisor into your phone, and bookmark help links on your computer. After all, that's what they are there for.
Get more tips on how to succeed at school on our College Success blog.