Top Fears About Going Back to College in Your 30s (and How to Overcome Them)
Top Fears About Going Back to College in Your 30s (and How to Overcome Them)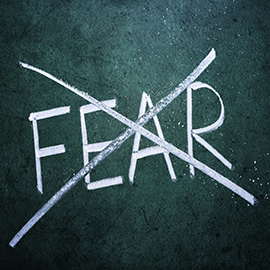 If you've been out of school, even just for a few years, chances are you'll feel some anxiety about returning to the classroom to pursue a college degree. Many returning students have concerns about going back to school. Read on to find out which fears are the most common among older college students — and how to overcome them.
"I'll be the oldest one." Many older college students fear walking into a classroom only to discover that they are decades older than everyone else. While college students still tend to skew on the younger side, the reality is that today's college classroom often includes a diverse mix of ages and experience. Age becomes even less of an issue if you decide to pursue your degree online, where classmates get know you better for your personality and work than your age.
"I won't be able to keep up." After a few years out of school, you're bound to feel a bit rusty. Keep in mind that you probably have years of real-world experience to draw upon and share. Plus, there are more resources than ever before to help older students succeed. At American InterContinental University, for example, students have access to tutoring, learning labs and student services advisers to assist them throughout their journey. The online university even offers an option to pair new students with an alumni mentor who can help answer additional questions students have as they get acclimated to college life.
"I won't have time for my family." Juggling family, work and college is no easy task. Going back to school will take some time away from your family and social life, but with careful planning, you can find balance. Set time aside to study, and also schedule time to spend with your spouse and/or children. Making a plan that includes everyone will make your family members feel important and valued.
"My professional life will suffer." Getting your degree takes time, but when you go back to school, you can start learning immediately. You might even give your career a boost if you apply some of your new knowledge on the job. Also consider sharing with your team or superiors that you are pursuing a degree. After all, going back to school shows you have drive, dedication and are willing to work hard.
"I won't understand the technology." These days, college students are more likely to use eBooks, mobile devices and laptops to help them get their work done. If that gives you pause, you are not alone. Many online colleges and universities have comprehensive resources and assistance to help bring students up to speed on today's most widely used software and technology. If you have old enough children, they also can be a great resource to help you get around online.
I won't qualify for financial aid. Older students are understandably concerned about paying for school. They have bills, mortgages and may even have children of their own attending college. It's important to understand that today's adult learners can also qualify for federal financial aid, depending on their personal situation. To find out what you may be eligible for, college students of any age should fill out the Federal Application for Student Aid (FAFSA). In addition to government financial aid, working adults may have additional options to assist in paying for school, including tuition reimbursement programs or educational alliances and grants offered by their employers.
Am I worth it? Your education is an investment in yourself. Ultimately, to be a successful student at any age, you have to believe in your goals and aspirations and know that you are a good investment. Remember that once you have it, your education is something that no one can ever take away.
Considering going back to school to earn your degree? Find out if it's the right time: Download our Back to School Guide.
Financial aid is available for those who qualify.