Why (and How) to Never Give Up on Your Education: An AIU Professor's Inspiring Story
Why (and How) to Never Give Up on Your Education: An AIU Professor's Inspiring Story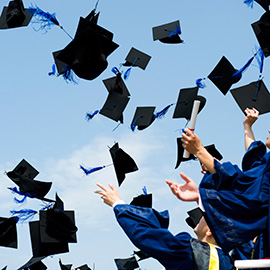 Throughout the more than a decade I have been involved in higher education, I've seen many different types of students. Regardless of their differences, they had one strong similarity. They all had the goal of earning their degree. As a professor, I always ask students what field they have chosen. I've seen the pride they have when they shout it out. It is a great thing. But at times I've seen students leave school. Ultimately, I've seen them leave their goals. It is a sad feeling for me.
It's upsetting for two reasons. First, you hope they do not give up on their dreams. Second, I remember times in my educational journey where I almost did just that. I did have feelings that all the plates that represented my life were breaking. In reality, school was not the problem. The problem was certain external events. I want to discuss these events with you because in the end, I did it! I know you can too!
People around me told me I would not graduate high school. My educational journey was hampered by physical pain, surgeries, and hospital trips due to a diagnosis of temporomandibular joint disorder (TMJD). Because of this, I rarely attended high school (I even attended one semester at home) and had many surgeries throughout that time. The pain kept me in bed many days. Yet I was determined, and I did graduate from high school.
I was excited about college, just as all the students whom I have taught over the years have been excited. But while the pain left for a while, it reared its ugly head. I had to have major surgery while I was in school at the University of South Florida in Tampa. The resulting recovery caused me to take half a year off. I almost did not return. My routine changed. Life changed. But eventually, I did go back and earned my bachelor's degree in psychology. I was very intrigued by this field. More precisely, this is where my interest in Criminal Justice was born. It took one class, Abnormal Psychology. I was intrigued by the "why" questions behind why people do what they do.
I can tell you that the moment you hold your degree is priceless. It goes beyond the degree. It is perseverance through all the challenges. It is knowing how close you are to a better life. It is knowing that you did it! That is how I felt, all in one day.
After earning my undergraduate degree, I took a little time off. Eventually, I decided to go back to school to earn my Master of Science in Criminal Justice at the University of Central Florida in Orlando. I remember that period of time in my life as crazy and hectic. I worked two jobs and went to school at night. When I finished and held my graduate degree in my hand, I wept happy tears. I never imagined that I could do it. I rarely slept more than 3 hours a night. I lost many friends. But I was driven by the motivation to make a better life for myself. I knew that continuing my education would lead to new opportunities.
In the end, it changed my life in the most wonderful way. It led me to the opportunity of my lifetime, teaching. My dream came to fruition: I had the opportunity to be the program coordinator for a college criminal justice program. I love teaching. It was more than teaching; it was about mentoring, about giving students an educational experience I never had. But soon after this opportunity, an injury caused me to require more surgery. This surgery was very different than all the others. It was an 8-hour surgery after which I recovered at home for three months.
---
RELATED ARTICLE: What to Do When Study Time is in Short Supply
---
I came back to my dream, three months later, determined and ready. Soon after this, I decided to go back to school to earn my doctorate. I was thrilled, excited, nervous and scared all in one! Work and school filled my life. I was earning this doctorate online. In the middle of my doctorate, I received bad news. Somehow, the vertebra in my neck were pressing on an artery in the back of my head. I was told that I could die. Everything had to be put on hold, everything. I was scared. I was sad. This surgery caused me to be in the ICU. The recovery kept me out of work for three months. I tried to stay in school. But I could not be productive with a hard-collar brace. Unfortunately, the surgery did not work. Less than a year later, I was in the operating room again. This time, I was ordered to stay out of school. While I didn't want to do this, my life was at risk.
I was so discouraged, but I had no choice. Many around me believed I should give up on my studies. In all honesty, I thought about it. Something inside me said, "No! You've never let anything prevent you from doing your best. Don't give up!" It helped that I have great friends who supported my educational journey and were there for me during the painful and restricting recovery from both surgeries.
One thing I've learned is that having a support system is key. With my friends' help and my own determination, I earned my doctoral degree on April 11, 2013. The moment following my final conference call, where my mentor called me back, is forever etched into my mind. He said, "Congratulations, Dr. Albert. You are done!" In that moment, I instantly felt the largest weight lift off my shoulders. I didn't cry this time. I felt an immense amount of pride. I did it, despite it all. I did it despite of my health and despite all those who believed I should just give up. The day I held my degree in my hand was a strange day. I was having a bad day. I went to check my mail and saw this big folder from my school. It was at that moment that I began to weep.
Regardless of your degree path, know that you, too, can do this. Remember that excited feeling! Remember the goals you have for your family and yourself. Life may try and get in the way of your goals. Know that whatever occurs cannot keep you from you own moment where you say, "I did it!"