5 Reasons to Do Volunteer Work While Unemployed
5 Reasons to Do Volunteer Work While Unemployed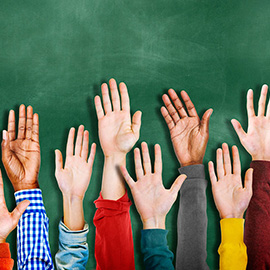 Your unemployment is about to run out, it's been months since your last position, and the feeling of stagnation is getting heavier every day. These types of circumstances can become crippling to any job seeker and can lead to a widening employment gap, feelings of desperation, and even depression.
Volunteer work can help keep your thoughts positive, your skills sharp, and experience current. When it comes down to the pure practicality of it, giving away work for free can seem like a less-than-ideal option—especially if you've been unemployed for a while. However, the benefits to giving your time to a worthy cause can mean a healthier mindset and a more marketable you in the long run. How? Take a look at these five reasons.
1. It helps you stay productive. When you finally land that interview after a long drought, the most intimidating question you'll probably get is what have you been doing since your last job? While binge watching 24 on Netflix between applications is a fun way to spend that downtime, it's not the most attractive thing to an employer. Be able to say that you've helped build a house for the homeless, find homes for lost animals, design a web page for a charity, or teach a child to read. These make great conversation material and give the impression that not only are you staying busy but also are a very outward-thinking individual—and who wouldn't see value in someone like that?
2. You can sharpen your skills or gain new ones. Chances are you have some areas that could use a bit of professional development. This is especially true if you're still early in your career. As long as you treat it like a paying job, volunteering is a great way to keep your skills fresh and adaptable. If you are the management type, there are all sorts of ways keep your leadership skills up to date: lead a large-scale service event, such as those held by AmeriCorps, United Way, or Points of Light, or offer your expertise to a grassroots organization in your area. Are you into project management? Non-profits are always looking for creative individuals to help with program planning and execution.
Also, a lack of experience can be a road block for job seekers looking to enter a new industry. This is how you get that experience. Volunteer organizations are far more likely to take a chance on you—it's not like they're going to lose money doing so.
3. It cuts your employment gaps. It's very understandable that a lot of us can't afford to work for free. On the other hand, the longer you stay unemployed, the less you can afford to not work at all. Large gaps in employment are resume killers, especially if (as mentioned above) you haven't been doing anything since your last job. That alone can be read as a lack of initiative.
---
Related: 5 Ways Volunteering Can Help Your Career
---
4. You can make valuable connections. Networking is, and mostly likely always will be, the most effective method of job hunting. Joining a nonprofit community service board will give you the chance to connect with some of the more influential people in your community.
5. You can develop a stronger sense of purpose. Waking up every morning with nowhere to be can leave you feeling very empty and eventually lead to depression. Find a cause that you are passionate about furthering, whether it's animal welfare, women's rights, or youth athletics, and make that your reason for getting out of bed in the morning. This will keep your spirits high as you will continue to feel needed. Who knows, with all of the good karma and connections that you've created, you may have even found a new career path that you didn't even know existed.
Interested in more posts on job search-related topics? Check out our Career Development blog.
If you're a current AIU student or alumnus looking for more career advice, please contact the Career Services Department at 877-221-5800 Option 5 or at careerservices@aiuonline.edu.