4 Steps to Staying Motivated and Finishing your Degree Program
4 Steps to Staying Motivated and Finishing your Degree Program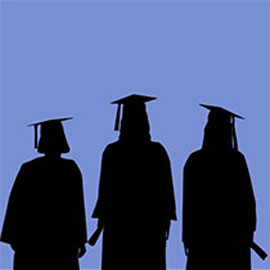 What did you feel the moment you signed up for your degree program? Did you feel excited or giddy? As you continued on through your courses, have you maintained these amazing emotions? Sometimes, when your path feels long and challenging, it can be difficult to maintain your drive and enthusiasm. Yet that is exactly when you need to dig deep and find that motivation to help propel you to the finish: graduation.
Picture walking across the stage and accepting your diploma. What does that look like to you? If you haven't created this picture in your mind, try it. Think of the cascading effect earning your degree can have on your life. Then, take these four steps to help you stay focused on your goal.
1. Think of the pride you will feel in earning your degree. This pride can result from a multitude of factors. Two that come to instantaneously come to mind are perseverance and determination. School is a sacrifice. More precisely, it is a short-term sacrifice. Taking each day at a time. Working on your weekly material. Juggling everything that is life.
---
RELATED: 6 Survival Skills for Juggling Your Education and Career
---
When you maintain the determination to finish, this leads to perseverance. Perseverance and determination are very important to master throughout your life. We all get knocked down at some point. In mastering perseverance and determination, you learn to get back up - as many times as necessary. In earning your degree, you learn how to handle the challenges that life presents and to successfully overcome them.
2. Think of the example you will set for those around you in earning your degree. Those around us take note of what is going on in our lives. Are you the first individual in your family to be in college? Has graduating been a lifelong goal? You have an amazing potential to inspire your family and others around you. In essence, you will become a mentor without even knowing it. Others will view your work ethic and the choices you make. Through you, they will observe the importance and value of education. And remember, following through is also about being an example to yourself. In persevering through the good and not-so-good times, you will be able to adapt to the demands of life.
3. Think of how it feels to reach for your goals and dreams. Your chosen degree program is your passion. Think of the learning, challenging, and exploration you engaged in throughout your program. In reaching this goal of earning your degree, you are closer to reaching your passion (your chosen career field). It is an amazing feeling to reach your goals. In reaching this goal, you have the ability to set new goals. Finishing your degree program gives you the confidence to set new goals. As you reach for the new goals, remember how you got through the ups and downs of your educational journey. The skills you learn throughout your educational journey eclipse your program material.
4. Some of you may be in school to pursue a career change or career advancement. Sometimes, life presents us with situations that lead to new potential. In my past, I was presented with a career-changing scenario. I knew it was time for a change. I knew it was time to go back to school. Whichever the scenario, finishing your degree program can lead to a career change. This can lead you to an exciting time. Some of you are in school for career advancement. It may be a promotion. It may lead to a pay incentive. It may be learning new or additional skills in your field. Whatever your goal, finishing your degree program may lead to new opportunities in your chosen field.
It is important to finish your degree program. Learning is about exploration and of course, it is about the material within your degree program. It is also about reaching your goals. It is about setting an example to those in your life and yourself.
You learn so many different subjects throughout your degree program. Do not forget about learning perseverance and determination. Do not forget about the pride you will feel. Do not forget about that excited feeling you possessed when you went through the entrance process. Above all, never lose the vision of walking across the stage and accepting your degree. Once you've reached your goal, remember shaking hands and accepting your degree. There is a cascading impact throughout your life and those around you. It's an impact with a long-lasting positive influence!
---
Thinking about returning to school but don't want to start from scratch?
Download our Transfer Credit guide to find out how you may be able to get credit with previous college, military, or work experience.
---