5 Resume Mistakes That Can Take You out of the Running
5 Resume Mistakes That Can Take You out of the Running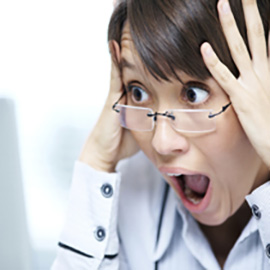 You probably already know that composing a marketable resume takes a lot of time and effort, but did you realize that hiring managers usually take just 15-20 seconds to initially look over each one? With companies often seeing so many candidates for one position, it is imperative that your resume clearly shows why you're qualified at a glance. Make sure you're not making one of these five mistakes that could potentially get your resume ignored.
Any typos whatsoever, including spelling errors and poor grammar. Any of these will directly affect your reputation and first initial impression. You don't gain any points by getting this part right – this is table stakes. Use spell check, of course, but this does not catch every error. Go over it again – and again – and again – to try and catch these small but crucial mistakes. Recruit friends and family to look it over as well, because they may be able to catch mistakes that you cannot find.
Utilizing language and key words of your industry that are inaccurate or don't make sense. Often we are tempted to overuse catchphrases and key words, as they are frequently what resumes are scored on by applicant tracking systems and software. But make sure you actually possess those key skills, otherwise it can be very misleading. It is also important to employers that you can validate the skills you list: anything is fair game to be asked to provide further details on in an interview, so be prepared to back up any keyword or phrase with a specific example of how you have used and developed that skill in your experience or schooling.
Using too many acronyms. While this is an easy trap to fall into, keep in mind that those outside of your current company or not in your same field may have no idea what an acronym stands for. Your best bet is to write these out – this is more formal and professional, and it can help to have both the full name and acronym for being read by applicant tracking systems.
Failing to emphasize accomplishments. You should not simply use your company's job description to list out all of your duties for current or previous positions. Most recruiters or employers already know the gist of most positions; they want to know how and why you are best suited for the position you've applied to. Your resume should highlight your specific accomplishments in each position. How did you improve your department or company? Whenever you can obtain specific statistics or percentages to show progress, achievement or growth, make sure to list those as well.
Long resumes and long paragraphs. Hiring managers and recruiters just do not have the time to read these. Therefore, it is detrimental if you do not focus on the skills and accomplishments that directly relate to the job you are applying for. This is just as important for "career transitioners" as it is for experienced professionals. Yes, it takes more time to tailor every resume to every position, but it is worth it if you end up landing a job because of it. You should never send it out to job openings en masse, as employers can spot these "templated resumes" right away. Every word counts, so make the most of them to best relay why you are well suited for the position at hand.
Learn more about getting your career moving in the right direction. Download our guide, "How to Go From the Job You Have to the Career You Want."
If you're a current AIU student or alumnus looking for more career advice, please contact the Career Services Department at 877-221-5800 Option 5 or at careerservices@aiuonline.edu