5 Reasons For Getting a Bachelor's Degree After Your Associate Degree
5 Reasons For Getting a Bachelor's Degree After Your Associate Degree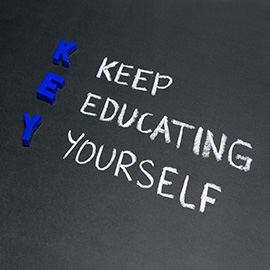 If you've already earned your associate's degree or are nearly there, congratulations! It's a great accomplishment and positive step forward. But are you really done? You're already in the groove of going to school. Why stop now? It's time to consider whether pursuing a bachelor's degree after your associate's degree is the right choice for you.
Here are five reasons to continue moving forward:
Keep your momentum going. You learned how to get an associate's degree. You're comfortable with school, the professors, and your fellow students. You've shown you have the study skills and know the expectations. You've carved time into your schedule for schoolwork. The momentum is there. The foundation is built. Why stop now? Don't wait to achieve your goals or you may struggle to find the time or energy to get started again!
You can really focus on your area of interest. Most of your general education courses are out of the way now that you've earned an associate's degree. As you work your way toward a bachelor's degree, you can take the specialized courses that allow you to delve more deeply into your area of interest, whether that be marketing, finance, information technology, or any of the other many degree program specializations.
You can have greater earnings potential. According to the Bureau of Labor Statistics, people with a bachelor's degree earn more than those with an associate degree, and their unemployment rates are lower as well.1
A bachelor's degree can open doors to new opportunities. You know the jobs you can get with an associate's degree. But the higher the degree, the more quickly doors may open to management positions and new career challenges. Why continue with getting a bachelor's degree after your associate degree? A bachelor's degree can help you fulfill career goals, whether you want to be a manager, a team leader or perhaps run your own company someday.
Build your sense of accomplishment. Obtaining a bachelor's degree shows employers, family, friends (and yourself!) that you have the work ethic, the commitment and the ability to move your career forward and get where you want to be.
Learn more about getting your career moving in the right direction. Download our guide, "How to Go From the Job You Have to the Career You Want."
---
1. http://www.bls.gov/emp/ep_chart_001.htm