3 Reasons to Pursue A Promotion Before Looking for a New Job
3 Reasons to Pursue A Promotion Before Looking for a New Job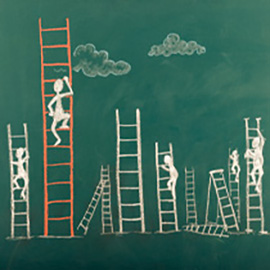 If you have the mindset that just because you've been with a company forever that you are entitled to a promotion at some point, this article is for you. The notion that promotions should be handed to you solely for participation is like saying that you should just be given a master's degree because you spent eight years getting your bachelor's—that is just not how it works.
That doesn't mean you should quit and go somewhere in the hopes that you'll get a higher position because you have the requisite amount of work mileage. If you've put in the work and built the reputation to move to that next level, stick with the company - you may find you'll have more leverage in making that climb for these three key reasons:
1. You already know the culture. This is the most obvious advantage you have over the hundreds of competing resumes floating around the HR department. This isn't limited to knowing where all the best lunch spots are in the building or memorizing every subsection of the employee handbook. It's more of an understanding of the dynamics of your co-workers, how individuals and teams work together, and who to go to when you need a specific task done or to give your project that needed nudge forward.
Someone with your tenure knows the ins and outs of the company, and this is crucial to being able to more seamlessly transition into a new role with more responsibility. "As an internal candidate, you are probably better suited for the role," noted Elissa Dactelides, head of learning and development for Cetera Financial Group in AIU's recent Serious Talk webinar, Who's Getting Hired and Why. "Being able to operate in the systems and processes and networking with people within the organization and being able to demonstrate and articulate the value that you have brought over the years [is a big advantage]." Basically, you've got the best chops for the job and everyone knows it. This is because ...
2. You've spent years building your reputation. Remember that time you stayed extra hours to help the new guy get that big project done? We know you do. Know who else remembers it? That new guy. When it comes time to gather those references and drop those names, all that good karma from doing good work and keeping good working relationships is going to come back in the form of a good word from that new guy and any others who have caught wind of your leadership abilities, all the way up to the deciders. What's better is that the hiring manager likely will have access to the performance reviews that back up the whispers. Moving up internally means that your legacy will precede you when it comes time to fill that senior manager position. Besides ...
3. Do you really want to start all over at another company? Well, you may not have to start over completely, but whatever new company you land a position with, you'll have to start from square one in building relationships - and your reputation. You will be the new guy again. You will have to build a new network, establish a new paper trail of high-graded performance reviews, and impress a whole new crop of superiors.
Before you start thinking that the grass is greener on any other side, consider the fact that new hires are under the most pressure. With droves of qualified candidates, a new hire is under more pressure than ever to produce results in a much shorter time frame. Someone with no preexisting grasp on the corporate culture has a learning curve to conquer in the process of doing this. With that being said, if you switch companies and struggle to fit in with the culture, it can make you just that much more attractive...to the unemployment line.
Interested in more posts on job-search related topics? Check out our Career Development blog.
If you're a current AIU student or alumnus looking for more career advice, please contact the Career Services Department at 877-221-5800 Option 5 or at careerservices@aiuonline.edu.