6 Ways Your AIU Student Advisor Can Help You
6 Ways Your AIU Student Advisor Can Help You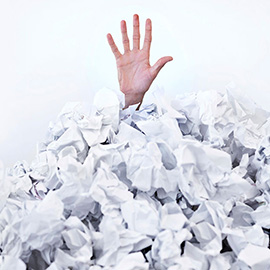 Your student advisor is one of your most valuable resources while attending AIU Online. Think of them as your guide, a knowledgeable expert who can help you to overcome challenges—or avoid them altogether. To best capitalize on this important resource, proactive and regular contact with your advisor is key! This can help you to save on stress over the course of your academic program.
But how specifically can your advisor assist you? What types of questions can they help with, and when can you turn to them for guidance? Below is a list of important topics that every student should discuss with their advisor:
1. Academic challenges and frustrations
Every student advisor is familiar with the many resources available in your classroom and on the Virtual Campus. They also have a great deal of experience working with students who may have had some of the same challenges or questions that you're experiencing. For example, maybe you have never had to do academic research for papers before and aren't sure where to start. Share these concerns with your Student Advisor rather than feeling frustrated or nervous. They have worked with countless students who needed help doing their research and can direct you to the resources you need.
2. Emergency issues and personal challenges
Advisors are trained on every academic policy and option available to you at the university, and in most situations, the earlier you address an issue, the more options you may have available to you. So when life events and surprises come up, it is important for you to have your advisor on speed dial so that you can get in touch with them to discuss solutions. Don't forget that you can also call and speak to any advisor if your own individual advisor is not available!
3. Your academic and career goals
Motivation is an important factor in academic success and it cannot be underestimated. We are all highly motivated when we begin a new academic program, but this enthusiasm can fade over time as we encounter various obstacles and challenges in our journey. Student Advisors know the importance of motivation and have experienced the challenges that students face in maintaining the drive to keep moving forward. If you share your goals and aspirations with your advisor early on, you can then have a coach there to remind you of why you're doing this when things get tough. Think of your advisor like a personal trainer at the gym, someone who can give you that little push you need when you don't want to keep doing that heavy lifting but know it is good for you!
4. Your support system
Every student should have a support system to help with motivation and overcoming challenges during their academic program. A support system can consist of many different groups including your family, friends, employer and advisor. Making your advisor aware of your personal support system will help them to better brainstorm solutions with you when you encounter an obstacle.
5. Your backup plan(s)
A good backup plan, or series of backup plans, is another way to help you overcome challenges such as a bad Internet connection or faulty hard drive. Student advisors work with students on backup plans every day, so you can consider them to be practically experts on the topic. Be sure to engage your advisor in assisting you to develop a backup plan early in your program to save you potential anxiety and stress later!
6. Your schedule and outside commitments
Time management is another common difficulty for adult learners and is yet another topic in which your advisor should be knowledgeable. Student Advisors know the typical time commitments needed to complete coursework successfully, and they also know how assignments should be prioritized if you should fall behind. If you find yourself running out of time for schoolwork, reach out to your Student Advisor right away to look at changes you can make to streamline your schedule.
Looking for more resources and advice on doing your best at school? Read our College Success blog.
If you're a current student and would like to reach out to your Student Advisor for assistance, call us now at 877-221-5800 option 1.