AACSB vs. ACBSP: Accredited Business Programs
AACSB vs. ACBSP: Accredited Business Programs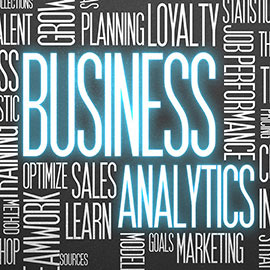 Researching business degree programs? One of the savviest strategies you can––and should––employ is to factor in programmatic accreditation when making your choice. In the business school arena, there are two main accrediting bodies: ACBSP (Accreditation Council for Business Schools and Programs) and AACSB (Association to Advance Collegiate Schools of Business). As a proactive professional looking to move forward in your career or take it in a new direction, understanding AACSB vs. ACBSP business accreditation can provide you a better hold on whether a program best aligns with your career goals.
Business Schools with Programmatic Accreditation Provide Added Quality
The first step in finding the right degree program is, of course, to be sure to select an accredited college or university. This type of accreditation, institutional accreditation, means the university as a whole (including its faculty, departments, programs, and curricula), is reviewed and accredited by a regional or national accreditation agency. American InterContinental University (AIU), for example, is regionally accredited by the Higher Learning Commission (HLC). This differs from specialized or programmatic accreditation, which pertains to a single program or department within a college or university.
And choosing an accredited business degree program is as important or more so than all other considerations when making your decision. It offers assurance that an institution has met certain standards of rigor, quality, and excellence through a credible independent organization. As Dr. Judy Bullock, University Program Dean of AIU's School of Business, explains, programmatic accreditation is a non-compulsory, additional layer of merit business programs may seek to convey to prospective students that they strive to meet higher, specialized standards above and beyond basic accreditation for their curricula and programs.
AACSB vs. ACBSP Accreditation: What's the Difference?
As noted above, AACSB and ACBSP are the two predominant programmatic accrediting bodies for business schools internationally, with AACSB the older of the two. That organization, founded in 1916, places an emphasis and requirement on faculty research as one of its standards, according to Bullock.
But as a prospective business school student, you may already be aware that a gap in the market is met when consumer need demands it. ACBSP is less than three decades old and offers another approach and focus to accreditation, filling just such a gap: It originated as a concurrent organization to foster an innovative approach focused on "teaching excellence and educational outcomes."1
According to Bullock, "Both accreditations have a place; both are vital to the success of global commerce but serve different––not competing––roles." Each, she says, offers the opportunity to provide new knowledge. "They're two sides of the same coin," she says. According to Bullock, the differing approaches of AACSB and ACBSP accreditation strike a balance between an applied and theoretical approach, allowing students to follow their individual passions and offering employers a well-rounded selection of candidates to meet their needs.
Likewise, both are approved by the Council for Higher Education Accreditation (CHEA), which provides "national advocacy for self-regulation of academic quality through accreditation."2
AACSB vs. ACBSP Accreditation Standards Are Complementary
While both organizations place value on research and teaching outcomes, and these values overlap in the standards each uses toward accreditation, generally speaking, business programs with an emphasis on research will seek AACSB accreditation, while programs with a teaching emphasis and mission will pursue ACSBP accreditation. (The business administration degree programs at AIU are accredited by ACBSP.) For prospective students, Bullock says, "Looking closely at the difference between research and teaching institutions is the crux of the difference between AACSB and ACBSP."
The path to accreditation in both organizations is similar. AACSB requires schools seeking accreditation for business programs to work with a mentor team that oversees and helps a program produce a self-study report that evidences how it meets AACSB's standards. The process starts with pre-accreditation and moves through a rigorous review process before reaching full accreditation. And AACSB requires a program review every five years to ensure it continues to meet standards.3
ACBSP requires a similarly stringent oversight and review process to ensure program eligibility and satisfaction of established accreditation standards. For ACBSP, business schools must comply with a full quality assurance review every two years following initial accreditation or reaffirmation of accreditation, according to Bullock.
Both accrediting bodies require business degree programs to foster links within their local communities, which is beneficial for students as they endeavor to grow their network while in school. In addition, business schools can be accredited by one accrediting body and members of both as a way to stay on top of the latest information, research and current trends; this also provides an added touchstone of a program's commitment to quality. By way of example, AIU is a member of AACSB in addition to being regionally accredited by the HLC and its business administration programs being programmatically accredited by ACBSP.
Which Type of Accredited Program is Right for You?
Bullock says many business school students are "more selective in looking at options for schools based on what works best for them in terms of where they want to be" relative to their career aspirations. She notes that research shows students will make two to three major career shifts in their lifetime, and they need to have the strongest knowledge base they can to weather change across a career span. Choosing the right program comes down to whether your passion lies in pursuing a career in research or real-world application of that research in a business setting, whether in a public, private, or non-profit organization.
It's helpful for students to know that employers sometimes recruit candidates based on the kind of business program completed and its foundational approach. "They may want people who have that research institution backing; on the flip side, they may want students who become part of their 'high-potential population,' who can lead through applying the principles they've learned," Bullock says.
Whether the program you select has ACBSP or AACSB accreditation, becoming clear on which career track is right for you is the key to choosing the program that's the best fit.
Ready to learn more? Explore accredited business degree programs at AIU.
1 ACBSP Standards and Criteria for Demonstrating Excellence in Baccalaureate and Graduate Degree Accounting Programs, on the Internet at http://c.ymcdn.com/sites/www.acbsp.org/resource/collection/0E6C17FF-C71B-46C7-9A69-2B5A815DB06E/ACBSP_Accounting_Standards_and_Criteria_February_2014_update.pdf (visited on 4/10/2014)
2 Council for Higher Education Accreditation, on the Internet at http://www.chea.org/ (visited on 4/15/15)
3AACSB "What Does a School Have to Do in Order to Become Accredited?" on the Internet at http://accredited.aacsb.edu/students/what-does-a-business-school-have-to-do-to-become-AACSB-accredited.html (visited on 4/14/2014).
The business administration degree programs at AIU are accredited by the Accreditation Council for Business Schools and Programs (ACBSP). The Fashion Marketing specialization, Bachelor of Accounting, Master of Accounting, Bachelor of Healthcare Management, and Master of Healthcare Management degree programs are not accredited by ACBSP.