5 Tips for Studying During Winter Break
5 Tips for Studying During Winter Break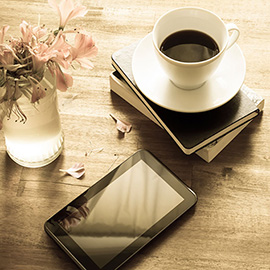 If you've had a strenuous class session, the idea of studying over winter break might make you want to pull the covers over your head for the duration. You work hard through the fall season: logging in to your classes, studying and writing papers. And while you've definitely earned a few weeks of relaxation, you don't want to stray too far from the good study habits you've built during the past few months. If you aren't sure what to do during Christmas break to keep your study skills sharp, here are some ideas that may help you face your next round of courses with confidence:
Get a jump on next session: What class or classes are next up on your schedule? If you're particularly concerned about a potentially challenging class, doing some general online reading and preparation around the topic during winter break may make the material easier to grasp when you encounter it officially.
Pursue an interest not covered by your degree program: Winter break is a great time to pursue a topic you're interested in but can't fit into your regular academic program. Delve into blogs, online tutorials, videos and other resources that can help you build a foundation of knowledge in an exciting new arena.
Cultivate a leisure reading habit. College students spend a lot of time reading but often have few opportunities to read for fun. Many students also have jobs and families, making spare time just a dream. Investing time during the break to return to or build a habit of reading for enjoyment is another effective way to keep your mind working. Book Riot, an online community for readers, organized a Read Harder Challenge, which is intended to help readers discover new authors and genres. If you want to expand your reading horizons, perusing their list of suggestions will give you lots of possibilities. Setting a goal to read one book a week during winter break is a simple way to keep your mind active between terms.
Be a backyard tourist. Finally, if you want to extend learning and studying into the winter break, but prefer to learn in an active manner, plan some field trips for yourself. Look for cultural and educational opportunities in and around your community. Many local libraries offer workshops and seminars, which are often free. Museums of all sizes also provide great options for learning about art and history, and may offer student discounts for admission. Recreation.gov has a searchable directory of federal historic and cultural sites, museums, educational programs and outdoor activities in all 50 states.
Studying over winter break may not be what you envision for your time off. But using one of the above suggestions, and maintaining a regular routine of reading, studying and learning, can help you transition and adjust when the time comes to return for the next term.
Interested in more articles succeeding in college? Read our College Success blog.