Full-Time vs. Part-Time Degrees: Which is Right for You?
Full-Time vs. Part-Time Degrees: Which is Right for You?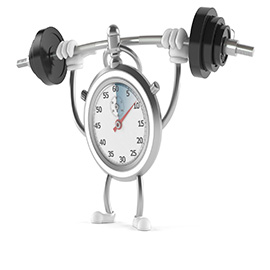 You know that you want to go back to college to pursue your bachelor's degree , but you still haven't decided on a full-time vs. part-time program. Luckily, today's college students have a number of flexible pacing options to help them balance work, family and school. Deciding whether to pursue your bachelor's degree full-time or part-time depends on a number of factors, including when you want to graduate, how much extra time you have, your study habits, work schedule and what's going on in your family or social life.
At American InterContinental University (AIU), students are considered to have full-time status if they take 12 or more credit hours per quarter (an average of about three classes per quarter). Students who take fewer than 12 credit hours per quarter are considered part-time students. Let's explore the pros and cons of pursuing your degree in a full- or part-time program.
Time and Money. Time and money are probably the two most important factors that can influence your decision to choose full-time vs. part-time college. Many students want to graduate as soon as possible to start making the most of their new credentials, and that often means pursuing a bachelor's degree full-time in addition to a busy life that includes work, family and social responsibilities. However, going to college full-time uses more resources (time and money) in a shorter period of time. Full-time college coursework is rigorous, but many students successfully pursue a full-time degree even in addition to a 40-hour work week and family responsibilities.
If you're in less of a hurry to graduate, a part-time program can be a great option. Taking one courses at a time can give you more time for work, school and family. However, this approach will definitely lengthen your timeline to earn your degree.
Income Tax Implications. All college students, whether they are considered full- or part-time, can qualify for certain educational tax credits. A tax credit directly reduces the amount of income tax you have to pay (versus a tax deduction, which reduces your overall taxable income). The American Opportunity Credit and the Lifetime Learning Credit are two important educational tax credits that vary based on your full-time or part-time student status. Check with your school's financial aid department, the IRS or the U.S. Department of Education to find out what credits you might be eligible for on your state and federal tax returns.
Changing Your Status. Changing your status from full-time to part time, especially mid-semester, can have implications for your financial aid. Before dropping courses or declaring a part-time status, be sure to check with your school's financial aid office to make sure that you will still be eligible for certain student aid programs, scholarships and grants. You should also inquire if you will have to repay any funds already disbursed for the term.
Making the Choice. The kind of support your school offers can also influence your choice to earn your bachelor's on a part-time or full-time basis. Check with your school to find out if it offers part-time options for students and what kind of flexibility they offer students such as online, evening and weekend classes. Benefits like online classes, online library access, tutoring services and time management coaching could make it possible for you to earn your degree full time and still keep your busy life.