Balancing School and Family: Top 7 Tips from AIU Students
Balancing School and Family: Top 7 Tips from AIU Students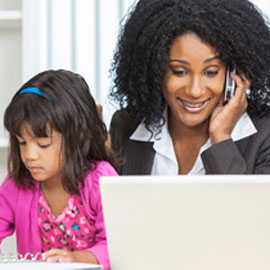 College life is no longer the sole domain of fresh-out-of-high-school, unencumbered young adults. Four in 10 college students today are over 25, and plenty of those students are raising kids of their own.
Whether you're currently working outside the home or not, the daily demands of parenthood – whether your kids are 4 or 14 – can make pursuing a degree a challenging addition to your schedule. Yet it's far from unachievable.
We asked AIU students and alumni to share their best advice for fitting in schoolwork amid carpools, soccer practice, making lunches, homework help and everything else that comes with being a parent. Here, we share their top tips:
1. "I set a strict schedule to squeeze in my daily responsibilities and needed sleep. I made sure that all my kids were in bed by 8, then that's when it would be my time to do my school work. … Be extremely strict and self-disciplined with your school work all the way to graduation." – Jennifer C.
2. "When they do their homework, you do yours ... As well as once they're off to school or in bed, etc." – Lizza M.
---
Related: What to Do When Study Time is in Short Supply
---
3. "I do my school work either when my kids take a nap or when they go to bed. If I want to work on it while my kids are up then I have my own office to lock them out of while my wife takes care of them. We take turns seeing how she is in college as well." – Eddy G.
4. "Do not underestimate how much time you need. If you plan too much time and don't need it, all the better for you!" – Ken R.
5. "Use all the resources available to you. I help my kids with homework, take them to their activities and use my local library A LOT, and also do work when they're sleeping if anything else fails!" – Irma S.
---
Related: Creating a Peaceful Study Space
---
6. "Start ahead and stay ahead. … Time management is sooo important. Don't try and cram everything in at one time. Do a little bit at a time so you don't get overwhelmed." – Danielle H.
7. "Share your experience with your kids, this will encourage them to give the support you need to help you and encourage them to do good in school also." – Glenn F.
For more tips, ideas and inspiration on succeeding at school, read our College Life blog.