Education vs. Experience: How to Leverage Your Degree in a Job Interview
Education vs. Experience: How to Leverage Your Degree in a Job Interview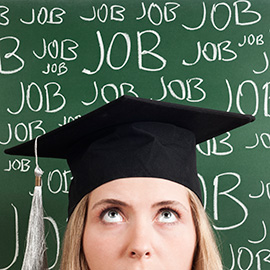 Education and experience
Education and experience
Go together like a horse and carriage.
This I tell you, brother: you can't have one without the other!
I am fairly positive I got some of those lyrics wrong; however, the main point is that you need to you need to leverage both your education and your experience to sell yourself in a job interview. If you are brought in for an interview, the employer must have seen something on your resume worthwhile. Be sure to make a strong case for yourself. While an educational shortcoming can generally be resolved by going back to school, an experience shortcoming can often be helped through pointing out specific accomplishments in your education.
A difficulty that many job seekers try to overcome is lacking a skill in a particular area. In AIU's recent Serious Talk webinar, "Who is Getting Hired and Why," Elissa Dactelides, head of learning and development for Cetera Financial Group, said, "In the interview, being able to say, 'I may not have that specific skill, but this is what I've done that could get that result,'" can be a powerful statement and tool to utilize. By focusing on the positives, you are able to overcome any shortcomings in your skills.
For example, if you are talking about your written communication skills, be sure to discuss the papers you may have written while in school. What many candidates don't realize is that their applicable skills to a particular position do not have to come from work experience itself. It can also come from knowledge learned in the classroom or real-life applications. While a candidate may not have worked in an information technology position before, for example, if they have the skills gained in the classroom or even have completed certain types of work on their own, they can talk about this during the interview.
In the Serious Talk webinar, Tom Latourette, managing partner at sales management and training company M3 Learning, also recommended putting a positive spin on your experiences. "Too many times we'll see people walk into the interview already assuming that, 'Oh, my background doesn't fit here,' instead of finding places that what I've done fits." By taking a proactive approach to the interview and showing how you can help the employer, you are going to be much better off than taking a reactive approach and only focusing on what you have done professionally. The best game plan is to merge the two together.
When a candidate is brought in for an interview, there is a reason for it. Employers will not spend their time speaking with candidates unless they think they might fit within either the position or organization. A candidate should never downplay their skills. If they are not right for a position, a candidate should feel free to ask if there is another position within the company where they might be a good fit, or where their skills are a better match. Knowing your skills is half the battle.
If you're a current AIU student or alumnus looking for more career advice, please contact the Career Services Department at 877-221-5800, Option 5, or at careerservices@aiuonline.edu