The Top 3 Things Interviewers Want to Hear
The Top 3 Things Interviewers Want to Hear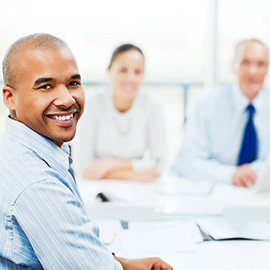 So you have scheduled an interview with a company – great! It's completely normal to feel both excited and nervous. However, interviewing can be very intimidating if you're not adequately prepared. Keep in mind though, that if an employer requests you to come in and meet with them, they already think that you may be the right candidate for the position. It's up to you to demonstrate why you are the person they are looking for.
It's always a good idea to research the company, know the job posting very well and practice answering some common interview questions. Still, there are a few things that an interviewer always likes to hear, so make sure to address the following questions at some point in the interview process.
Why are you qualified?
You would most likely not get called in for an interview if you were not qualified, but you should still be able to clearly articulate the skills, experience, and education you possess that make you qualified for this specific position. The interviewer wants to be assured that you can do the job based on the core competencies required to be successful. Typically you can answer this question when you're asked, "Tell me about yourself" at the beginning of an interview.
For example: "I have three years of experience in various roles within retail environments and have recently obtained a Bachelor of Business Administration degree. I am interested in this position because I am looking for an opportunity to use my skills and knowledge in customer service, leadership and project management."
Why do you want to work here?
Sometimes an interviewer may ask what you already know about their company, which is why it is vital to do plenty of research on the company with which you are interviewing. What products or services do they provide? What are their corporate values and mission statement? It's important to show that you are enthusiastic about the company and not just about the paycheck and benefits.
Usually an interviewer will give somewhat of a more detailed overview of their company and department, and then ask if you have any questions. Take this opportunity to show you've done your research and also ask any specific questions you have. This helps to show you are truly interested in the company and would fit in with the corporate culture.
For example: "Thank you for explaining the structure of this department to me. I was also very impressed to learn of the company's involvement with the local community. I'm interested to know how often your staff attends events to benefit military veterans."
How do you plan on making an impact here?
As the old adage goes, focus on what you can do for the employer, instead of what the employer can do for you. An interviewer wants to know that you will make him or her look good for having hired you. Try to think of this question when answering, "Why should we hire you?" or "Why are you the best fit for this position?"
Be confident in answering this question! While it is difficult to "brag" about your accomplishments, it is important for an interviewer to know how you've succeeded in past positions and projects. You may be competing with other candidates who are just as qualified as you, so this is your opportunity to show how you can stand out.
For example: "Based on my background and qualifications, I feel that I am an excellent fit for this position. If hired, I plan to make an immediate impact on your organization's revenues and also helping to increase your client base with my proven interpersonal and organizational skills."
As in any time you answer an interview question, try to show the interviewer by giving an example to demonstrate your skills and experience, rather than just telling him or her. If you are able to make the connection between you and the job, hopefully they will have no option but to offer the position to you!
Learn more about getting your career moving in the right direction.
Download our guide, "How to Go From the Job You Have to the Career You Want."