4 Top Ways to Market Your Skills on Your Resume
4 Top Ways to Market Your Skills on Your Resume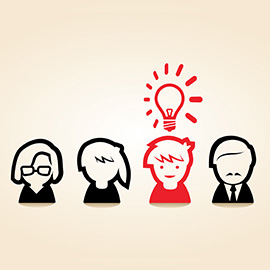 You come across a job posting that fits most of your qualifications. You are excited to tailor your resume and apply to this position. As you're making the updates, the first question you ask yourself is, "Where should I place my skills on my resume?"
It may feel like you are bragging or being arrogant, but employers want to know what you can bring to their organization to produce great results. The placement of these skills is very important to grab their attention. Remember, employers only skim the resume for about 15-30 seconds, so how do you get an employer to see this key information more quickly? Use the four steps below to effectively market your skills on your resume and hopefully, earn a call back from an employer.
1. Apply to jobs that meet your qualifications.
Career searchers should apply to a job if it meets 75-80% of their qualifications. In doing so, be sure to include keywords on your resume that pertain to your skills to ensure it is strong and readable by the applicant tracking system. Keywords of what an employer will look for in a candidate can be found within the qualifications section of the job listing.
2. Place your skills in the Professional Summary/Profile section of your resume.
The best place to market your skills is in this section. If you excel at meeting deadlines, are able to build rapport with others quickly, or have great organizational and motivational skills, these are great skills that should be placed on top. You want to be able to grab the employer's attention and engage him/her in skimming through your resume. One way to make sure you are tailoring your resume to the job posting is to take a look at the qualification section, and ask yourself, "Are these skills I have? Or am I working on improving them?" If yes, place them on your resume. This will show the employer what skills you can bring to their organization.
3). Place your accomplishments in your Work Experience section or under your Professional Summary.
There are certain accomplishments that are best placed under your professional summary so they are visible to the employer upfront. Any notable accomplishment you received, such as a certificate of recognition, a peer award or a testimonial from a customer or client, can be displayed under your professional summary. For any accomplishment you received from a task you performed in your job, the best place is under your professional experience section.
4). Proofread, Proofread, Proofread
This is a very important item to remember when completing your resume. One little mistake can be used as a deciding factor if an employer is choosing between your resume and that of another candidate. Please make sure to take your time in making sure no grammar errors or typos are on your resume.
If you're a current AIU student or alumnus looking for more career advice, please contact the Career Services Department at 877-221-5800 Option 5 or at careerservices@aiuonline.edu.