Can You Get an MBA Without the GMAT?
Can You Get an MBA Without the GMAT?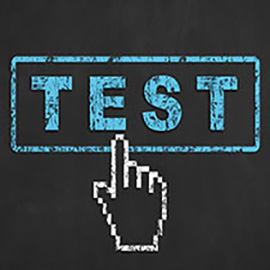 For those considering pursuing a master's degree in business, the prospect of spending time and money preparing for the standardized tests, such as the Graduate Management Admissions Test (GMAT), often required for admission can loom ahead as a potential obstacle. Can you get your MBA without the GMAT? The answer is yes, at some universities.
At American InterContinental University (AIU), for example, there's an alternative option for students who are interested in pursuing an online MBA with no GMAT so they can avoid potentially spending months of time and hundreds of dollars studying for and taking standardized tests. Here's a closer look at the MBA/GMAT relationship and AIU's unique approach to address what many consider an obstacle to entering a graduate business program.
The Role of Testing
Many graduate schools use the GMAT as a way of understanding how prepared students are for master's-level business courses. According to the Graduate Management Admissions Council (GMAC), which owns and administers the exam, more than 1,700 universities and other institutions around the world use the GMAT exam as part of the selection criteria for their programs. Designed to test skills important to business and management programs, the exam assesses analytical writing and problem-solving abilities, along with the data sufficiency, logic, and critical reasoning skills.1
The GMAT and similar tests, however, offer little actionable feedback to students on what they need to improve in order to perform better in both their studies and in their careers. And, as a 2012 Forbes article notes, nor does the GMAT measure key drivers of success such as individual leadership, drive, and creativity.2
Foundational Assessments
As noted above, it is possible to get your MBA without the GMAT. AIU has created a Management Competency Assessment that allows students to use intellipathTM, its proprietary personalized learning technology, to move through a series of educational modules focusing on core business content. These modules are related the Common Professional Components (CPCs) that are required of schools accredited by the Accreditation Council for Business Schools and Programs (ACBSP), which are "required to offer programs that include critical areas for business study and document their interdisciplinary approach to CPC (Common Professional Components), which is vitally important for business majors in the 21st century."3
The Management Competency Assessment modules focus on these common professional areas of business such as accounting, finance, economics, ethics, management, marketing, the global business environment, technology and quantitative methods. Once completed, AIU's assessment allows students to quickly understand their strengths and weaknesses, review information they may be familiar with but need a refresher on, and take a deeper dive into areas to which they may not have been exposed during their undergraduate studies.
Moving Beyond Standardized Testing
There are several benefits of the assessment approach versus testing. With standardized testing such as the GMAT, students, and admissions officers, merely get numeric scores. However, with AIU's Management Competency Assessment, students gain exposure to a wide range of critical business topics that can help them succeed both in future classes and in their professional life. The assessment informs students as to their readiness and highlights areas where they may benefit from taking advantage of the many resources the university provides to support student success. Although required for students entering the MBA program without an undergraduate degree in business, it is not a barrier to program entry.
Students are able to complete the AIU assessment via the Internet in the privacy of their own home, gaining insights into areas that they need to work on to help ensure future success. For students who have been out of the classroom for some time, the Management Competency Assessment can also serve as a helpful reminder of the core elements of business education.
Because this tool is part of the program, students can apply to AIU's MBA without having to take the GMAT or other commonly used graduate admissions tests. The Management Competency Assessment is available to every student, but it is required for those without an undergraduate degree in business. After completing the assessment and matriculating into the MBA program, students can earn their degree in less than a year, choosing from among many specialization options.
Ready to take the next step? Explore AIU's MBA program.
---
1. Graduate Management Admissions Council, "The GMAT Advantage,"on the Internet at http://www.gmac.com/gmat/the-gmat-advantage.aspx (visited 4/23/15)
2. Forbes, "What the GMAT Doesn't Predict," on the Internet at http://www.forbes.com/sites/ronaldyeaple/2012/08/06/what-the-gmat-doesnt-predict/2/ (visited 4/27/15)
3. Accreditation Council for Business Schools and Programs, "Current and Prospective Students" on the Internet at http://www.acbsp.org/page/students_current/ (visited 4/27/15)