Types of Management Degrees: Which is Best for Your Career Path?
Types of Management Degrees: Which is Best for Your Career Path?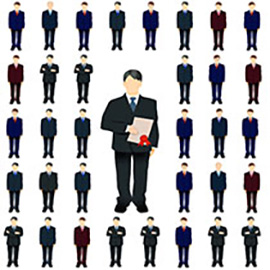 Have you ever wondered how to break into a management position in your field of interest? Management degrees can prove a valuable tool in positioning you for success across a broad range of industries, from healthcare or human resources, and help open the door to diverse opportunities.
Perhaps you already have an eye on a particular industry or career path, but if you're still evaluating your options, the best way to get started is to identify which industries interest you most. Here, we detail some of the more common areas of focus can help you determine what type of management degree can serve you best.
Human Resource Management Degrees: Serving People and Policy
Human resource managers serve as a liaison between employees and companies. They're the main point of contact for company-related policies as well as employee compensation and benefits. They can provide employee orientations or training for new employees and also manage employee-related conflicts. It's also their duty to make sure an organization is adhering to all legal employment guidelines.1
Gaining a human resources management degree can prepare you to:
Develop a personnel selection process for a specific position.
Establish performance standards for a job and select methods of performance appraisal.
Evaluate the relative worth of a set of jobs and determine a compensation structure.
Determine appropriate disciplinary action for a given situation.
Create change strategies for collaborative group relations.
Those who choose to pursue a degree in this field often enjoy working with and assisting people at varying levels of an organization, so if this describes you, pursuing a management degree in human resources might be a good path.
Healthcare Management Degrees: Preparing for An In-Demand Field
The outlook for jobs in healthcare management is bright, according to the U.S. Bureau of Labor and Statistics (BLS): employment in the field is expected to grow 23% from 2012 to 2011, much faster than average.2 Healthcare managers assist in the day-to-day and overall management of healthcare facilities or departments. Because it's an evolving industry, the scope of the position and duties are wide and varied, though it requires a great deal of responsibility.
Before stepping into this kind of role, gaining experience and knowledge in management with a healthcare management degree can set a good foundation.
A degree in this field can provide you with industry-related skills, such as:
Recognizing the management issues relevant to non-medical healthcare professionals such as the environment of care, performance improvement, risk assessment and managing diverse work-forces in healthcare.
Using principles of finance, accounting and management to successfully coordinate operations and personnel in a healthcare environment.
Identifying and managing potential ethical and legal conflicts in today's healthcare systems.
Business Management Degrees: A Foundation for Success
In an economy that's continuing to stabilize, one of the most practical degrees you can pursue is one in business. A skilled, competent business manager is an integral part of any successful organization, and these roles are needed across industries.
It follows that a degree in business management may afford you increased opportunities, given that the skills you learn can be applied across a broad spectrum of fields. These skills can include:
Using current operations and marketing management practices and principles to create efficient, productive systems.
Evaluating the various methods of personnel selection.
Implementing standards for performance evaluation.
Analyzing cases that focus on key marketing management tasks, such as marketing research, sales forecasting, product and brand management, distribution channels, pricing, promotion and branding strategies.
A business management degree also may open the door to work in project management or operations management, or you may find yourself working in the technology sector or in development and construction. The benefit of pursuing this degree is that it's both practical and broadly applicable as a management degree can afford you the leadership and analytical skills needed in today's economy.
Ready to learn more about different types of management degrees? Explore business degrees at AIU.
---
1. O*net.com, Summary Report for Human Resources Managers, found online at http://www.onetonline.org/link/summary/11-3121.00 (visited 5/6/2015).
2. Bureau of Labor and Statistics (BLS) Occupational Outlook Handbook, Medical and Health Services Managers, found online at http://www.bls.gov/ooh/management/medical-and-health-services-managers.htm (visited 5/6/2015).
3. O*net.com, Summary Report for Business Managers, found online at http://www.onetonline.org/find/career?c=4 (visited 5/6/2015).