Online Human Resources Degree Program Details
Estimate Tuition and Grad Date

Total tuition for this degree program may vary depending on your educational needs, existing experience, and other factors.

Estimate your costs, potential savings and graduation date.

Online Human Resources Degree Program Outline

An organization's greatest asset is its personnel. There are a variety of human resource roles within an organization that help companies meet their business goals. Planning for both staffing and employee development and job analysis to ensure that job descriptions fit the needed roles within the company are key strategies required for an organization's growth. Compensation management and performance appraisal are also key areas within the human resources function. Our Online Human Resources Degree is designed to help you develop a solid foundation in business while exploring topics related to human resources, such as employment law, the employment process, compensation and benefits, training and development, employee motivation, employee safety, and labor relations.

Online Human Resources courses can help you learn how to:

Develop a personnel selection process for a specific position
Establish performance standards for a job and select methods of performance appraisal
Evaluate the relative worth of a set of jobs and determine a compensation structure
Determine appropriate disciplinary action for a given situation
Create change strategies for collaborative group relations

Download program detail PDF

Human Resources Courses

Degree Requirements

General Education

| | | |
| --- | --- | --- |
| ECON220 | Microeconomics | 4.5 |
| ECON224 | Macroeconomics | 4.5 |
| ENGL106 | English Composition I | 4.5 |
| ENGL107 | English Composition II | 4.5 |
| MATH125 | General College Mathematics | 4.5 |
| UNIV103 | Academic and Professional Success | 4.5 |
| UNIV106 | Technology and Information Literacy | 4.5 |
| UNIV109 | Interpersonal Communication | 4.5 |
| | General Education Elective (1 Course) | 4.5 |
| | Humanities (2 Courses) | 9 |
| | Natural Sciences (2 Courses) | 9 |
| | Total Credit Hours: | 58.5 |

Core

| | | |
| --- | --- | --- |
| ACCT205 | Principles of Accounting I | 4.5 |
| ACCT310 | Managerial Accounting | 4.5 |
| BUSN105 | Introduction to Business | 4.5 |
| BUSN311 | Quantitative Methods and Analysis | 4.5 |
| BUSN150 | Legal and Ethical Environment of Business | 4.5 |
| FINA310 | Financial Management | 4.5 |
| MGMT305 | Management Information Systems | 4.5 |
| MGMT310 | Management and Leadership of Organizations | 4.5 |
| MGMT315 | Survey of Human Resource Management | 4.5 |
| MGMT499 | Program Capstone | 4.5 |
| MKTG205 | Principles of Marketing | 4.5 |
| | Total Credit Hours: | 49.5 |

General Electives

A combination of 11 electives dependent on Program

Students enrolled in the Fashion Marketing Specialization Option are required to take: FASH 212, Historical and Contextual Studies, in place of HUMA 215 Topics in Cultural Studies; and FASH 209, Fashion Cycle, in place of one General Elective.

General Business Administration Track

In lieu of a Specialization, select 5 Business Electives from any of the Specializations below

Human Resource Management

The Society for Human Resource Management (SHRM) has acknowledged that the Bachelors of Business Administration with a specialization in Human Resource Management fully aligns with SHRM's HR Curriculum Guidebook and Templates. The HR Curriculum Guidebook and Templates were developed by SHRM to define the minimum HR content areas that should be studied by HR students at the undergraduate and graduate levels. The guidelines, created in 2006 and revalidated in 2010 and 2013, are part of SHRM's Academic Initiative to define HR education standards taught in university business schools and help universities develop degree programs that follow these standards.

MGMT332
Employee Recruitment and Selection
4.5
MGMT335
Personnel and Organization Policy
4.5
MGMT345
Diversity in the Workforce
4.5
MGMT402
Employment and Labor Law
4.5
MGMT442
Performance Management and Employee Services
4.5

Total Credit Hours : 180

AIU's Bachelor of Business Administration (BBA), with all its specializations, is programmatically accredited by the Accreditation Council for Business Schools and Programs (ACBSP).

Human Resources Classes Overview

For an Online Human Resources Degree, your classes may include:

Employee Recruitment and Selection

This course examines the process of recruitment, selection, and human resource record keeping in organizations. Topics covered for the essential functions of recruitment and selection include ethics, legal requirements, job analysis, job descriptions, and selection tools. It also presents how the effective management of people and jobs depends on accurate, reliable, comprehensive, and current personnel information. This course presents the practical approaches to managing these invaluable human resource records.

Personnel Organization and Policy

In order to select and secure proper human resource for organizational needs, personnel policies must be in place to guide personnel selection, compensation planning and performance management. In addition, policies must be established for progressive disciplinary process and motivational alternatives. These policies must be linked with organizational strategy to develop human resources as a competitive advantage. They must also be linked with proper career management and employee retention activities. This course covers the basic aspects of policy writing for selection, performance management, disciplinary process, employee motivation, and career management.

Building Teams and Resolving Conflict

This course examines principles of team building and conflict resolution. Methods of building cohesive teams and diffusing confrontation will be discussed. Students will also explore the opportunities and challenges that arise from a diverse workforce.

Diversity in the Workforce

This course addresses the experience of work as it varies with gender and ethnic background. Topics include work-related stereotypes and attitudes, discrimination and harassment, career choice, occupational segregation, employment patterns, group differences related to fair testing and employment practices, and the relationship of diversity to processes such as supervision, leadership, mentoring and power.

Employee Compensation and Benefits

Compensation plays a critical role in modern organizations. An effective compensation system enables the organization to achieve organizational goals, improve productivity, and motivate employees. This course is designed to provide a working knowledge of compensation and benefits.

Employment and Labor Law

The goal of this course is to provide students with an overview of the legal environment of the modern workplace, including an awareness of the legal, social, economic and political forces impacting the law, and responsive strategies for the business manager. Some of the key areas covered include the law impacting the workplace, the employer-employee contract, anti-discrimination law, employee testing and privacy, regulatory agencies, retirement compensation, workers compensation, and other statutory rights.

Training and Development

This course examines the various training and human resource development techniques utilized by corporations to improve employee and organizational effectiveness. The focus will be on needs assessment and analysis, training design and implementation, evaluation techniques, and management succession planning.

Performance Management and Employee Services

In this course, students will learn to effectively organize, develop, create, and manage a business. The main objective of the course is to experience the challenges of starting and financing a new company. The main focus will be in-depth exposure to the process of starting and scaling an enterprise from an idea and business plan into a company, examining and exploring the entrepreneurial process, and analyze business decisions that entrepreneurs face.

Survey of Human Resource Management

This course will cover all basic aspects of the field of Human Resources Management. Topics to be discussed will include Employment Law, The Employment Process, Compensation and Benefits, Training and Development, Employee Motivation, Employee Safety, and Labor Relations. This course will also offer a selection of topics that will provide students with the opportunity to delve deeper into specialized areas and explore "hot topics" in Human Resources.

Management and Leadership of Organizations

This course examines the elements of management and leadership as they apply to modern organizations. Special emphasis is placed on organizational change, role of managers, and cultural differences found in today's management environment.

Management Information Systems

This course focuses on management of information systems. Topics include resources, information systems in an organization, social implications and use and evaluation of common microcomputer software packages.

Program Capstone

The emphasis in this course is on applying and synthesizing concepts and techniques from all previous business/specialization courses. The class sessions are designed to familiarize students with the many dimensions of business, with special emphasis on the area of specialization.

View the Course Catalog.

Ways to Save on Your Online Human Resources Degree

Accreditation

This business program is programmatically accredited by the Accreditation Council for Business Schools and Programs (ACBSP).
Take the
next step.
Classes start
December 11, 2019!
Complete this form and an AIU Admissions Advisor will contact you and provide further assistance.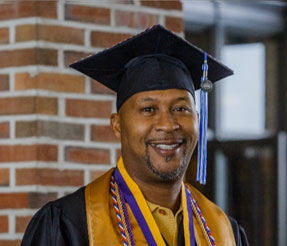 "The online option attracted me to AIU. The online atmosphere was great. AIU provided the tools and all the different resources to help me be successful in my degree."
- Anthony Wheatley
MBA 2018
BBA 2015