Online vs. Classroom: Which Learning Environment is Right for You?
Online vs. Classroom: Which Learning Environment is Right for You?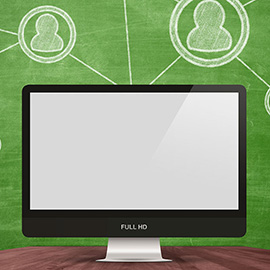 When approaching the next step in higher education, one of the first things to consider is whether you should attend school in an online vs. classroom environment. Traditional college called for students to be physically on campus, but in the modern world, amid hectic schedules and full-time jobs, weaving in an online education is often the most effective way to pursue your degree.
When choosing your ideal setting for learning, it's best to consider the pros and cons of each and determine which learning environment is the best fit for you ...
Do you need flexibility in your schedule? Are you a natural self-starter?
If you answered yes to either of these questions, you might want to consider online learning. Here is what an online education offers the virtual student:
Learning 24/7 – Your classroom and campus is available to you all day, every day. You can view course content, participate in discussions and work on group projects, all based on your needs and schedule. Research and studying has never been easier with online libraries, where accessing ebooks, reference materials, and interactive information can be easily accomplished without leaving your home, workplace, or wherever you are with a computer and Internet access.
Flexible education – Time is the most valuable asset you have, so the flexible schedule of online learning can work naturally with your lifestyle. Instead of traveling to campus, you can spend more time learning in the comfort of your own home. Fitting in coursework and study time is up to you, which is ideal when for many, the only time available to study is after the kids go to bed or early in the morning before work. Listen to lectures while exercising, peruse ebooks on your morning train ride, and spend your lunch break scouring the online library for information for your next group project.
A focus on your career and global networking – Online universities also can be a career partner, with Career Services departments that offer professional coaching, resume support, and once you graduate, alumni resources. Since the explosion of social networking communities, it's also easier to make a connection with individuals you might never meet at your local college campus. Networking with other like-minded students can open up opportunities for career growth beyond your own backyard.
Do you crave being in a group setting? Does traditional classroom structure bring you success? You might thrive in an old-school setting on campus vs. online learning. Here are some of the pros to pursuing your degree in person:
No distractions – If you are prone to being distracted by your everyday life, physically being in a traditional learning environment might be the best route for you. For some students, there is greater impact in being motivated by and meeting with classmates in person than online.
Predictability – If you work part-time, you might have the flexibility to schedule in time for commuting to a campus, so a set curriculum could be just what you need to accomplish your career goals.
Face-to-face education – Do you blossom in front of people and feel more comfortable in a community setting? If life before cell phones and virtual meeting places floats your boat, then strapping on your backpack and heading to a classroom for the benefits of in-person feedback and interaction with professors is an optimal surrounding for your learning needs.
Every pathway to learning has its pros and cons, but the bottom line is that you need to find an approach to education that is the right fit for you. As you get ready to pursue your degree and answer the question of online vs. classroom learning, take a look at your lifestyle and seize this moment to achieve your personal career goals.
Ready to learn more about pursuing your degree? Learn more about online degree programs at AIU.