6 Steps to Choosing Your Career Path
6 Steps to Choosing Your Career Path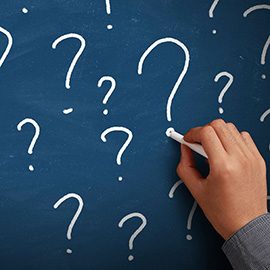 Whether you're just starting college or in the midst of your degree program, the question of "What's next?" is likely filling your mind. If your next step is undetermined, it's not impossible to uncover your career goals and start exploring your options, but you will have to put some time and energy into making your decision. Here are some ways to explore the best career options for you.
Assess yourself: Uncover your interests, skills and traits to show which careers options may be a great fit. Think about what you like to do and what you may want to do professionally in terms of specific skill sets and responsibilities. Self-assessment tests (Career Tests) are great ways to uncover hidden abilities and desires as well.
Make a list: Based on the work from your assessment, build a list of occupations. Try to limit your list to between 5-10 occupations. You do not want to limit or overwhelm yourself.
Explore your options: This is where the bulk of your energy will be spent. For every career you listed, you want to conduct research and look over job descriptions, education and other requirements, job outlook, advancement opportunities, and the potential earnings. A great resource to use is the U.S. Department of Labor's Occupational Outlook Handbook. Start by doing preliminary research. Once that's completed, your list should be even narrower!
Dig deeper: Once you are to a point where the basic job duties, salary, outlook and requirements fit with what you are seeking, explore these set career fields in more detail. A good approach is to start off by networking. Compile a list of individuals that you know of, who work in your desired field, either by exploring local businesses and/or speaking with friends, family members, former co-workers, etc. Set up informational interviews. See if these individuals are willing to give you an insider's view on the day-to-day operations of the job.
Narrow it down: At this point, you have done the research and have seen firsthand what the job is all about. Now you can narrow your list down! Keep in mind what you are willing to do and what you are not for a new career. Would you have to get an advanced degree? Would you have to take a pay cut? If needed, are you willing to climb the corporate ladder, starting from scratch?
Start an action plan: Once you have considered all the possibilities, you should have narrowed your search down to one. Now it's time to determine how to get you to that point. Break your plan down into short- and long-term goals. Keep in mind that short-term goals should be things you can achieve in one year, while long-term goals can be reached in one to five years. List any roadblocks and possible solutions for each goal.
Sooner rather than later, you'll be on your way to the career path of your choice, because you put in the effort and prepared!
Interested in more posts on job search related topics? Check out our Career Development blog.
If you're a current AIU student or alumnus looking for more career advice, please contact the Career Services Department at 877-221-5800 Option 5 or at careerservices@aiuonline.edu.