The 10 Best Business Blogs for Business Students
The 10 Best Business Blogs for Business Students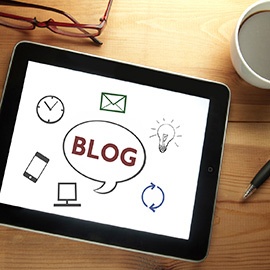 If you're an MBA student or pursuing a bachelor's degree in business, keeping up with schoolwork is just one part of staying on top of your professional field. Today, actively reading business blogs is akin to subscribing to the business section of yesterday's newspapers.
Nowadays, blogs provide an immediately accessible stream of the latest trends and news in business. Whether your goal is to pursue a start-up, work your way to a management position in a large corporation or dive into an established locally owned business, the industry requires ongoing education to stay ahead. Fortunately, blogs offer an easily accessible and highly current way to keep on top of the latest happenings.
Top Business Blogs Offer Additional Education
By subscribing to a respected, credible blog written by successful contributors within the business field or by expert journalists, you can get a better understanding of how certain principles you're learning in your program work in the modern economy.
No matter your major in business, keeping up with the latest trends via the top business blogs can go a long way in adding to your depth of understanding and how you synthesize your curriculum. Likewise, daily reading on pertinent topics will enhance your classroom dialogue and critical thinking in all business areas.
Best Marketing Blogs
Longtime Internet influencer and top entrepreneur Jay Baer is known for his uncanny marketing insights by way of simple soundbite-friendly adages. Baer and his team of contributors cover content marketing, social media strategy, branding, analytics and business principles and how to apply marketing concepts and skills to build a successful business. Contributors include CEOs of top companies and experts in the field, so information is top-notch.
2. HubSpot
HubSpot is known for its innovative marketing strategy, generous content offerings and educational posts. HubSpot's philosophy, inbound marketing, has effectively replaced disruptive marketing, positioning the latter as an outdated, ineffective old-standard for how to successfully market. Click on many online start-up sites, and you'll see the inbound formula replicated again and again.
You'll learn about all areas of inbound marketing, like building personas, developing content and effectively using different content mediums for each stage of the buyer journey.
Best Entrepreneurship Blogs
Sequoia Capital is a top venture capital firm, helmed by Jim Goetz, one of the most successful VCs in Silicon Valley and internationally. Subscribe to this blog to get a sense of the companies they fund, the work they do, industry news and industries they follow.
4. Quora.com
Follow Q&As from CEOs and experts in their fields, or ask a question yourself. You'll find informative Q&As in tech, investing, start-ups, business structuring and sales strategy. It's a helpful, fast read for a break at work or between classes, and a great source if you're stuck on a concept you're learning in class.
Entrepreneur magazine is a high-authority publication focusing on every aspect of small business, and its blog is one of the best sources for small business trends. You can read about customer loyalty, data security, or email marketing, written by successful businesspeople and experts in every facet of small business.
Best Management Blogs
Bloomberg Markets Magazine is engaging and no-nonsense journalism covering a wide scope of markets, international news and topics targeted to "the global financial elite." The online magazine is an offshoot of Bloomberg Businessweek, one of the most well-regarded publications on business. Reading this blog can help you stay up-to-date on global business and major corporate news.
7. Seth Godin
Seth Godin is a best-selling author, entrepreneur, speaker and is one of the most well-known influencers on the topic of leadership. Godin's blog features thoughtful, short entries. These fast reads can help you learn how to reflect on all areas of business and leadership––an important quality to have in management.
Best Business Blogs
8. Forbes
Every business student should have Forbes bookmarked. Forbes has been in publication for almost 100 years and has formed a reputation as one of the premier business publications in the world. Forbes' blog covers every aspect of business, from breaking business news to business leader profiles, and offers some of the top list posts on business online.
9. New York Times' Business Day
This blog can be an alternative to what might have been your newspaper subscription in past decades. Daily reading on topics such as global economics, business mergers, Wall Street or the Federal Reserve are helpful and important for you to complement your business school education.
Best Career Blog
10. Career Rocketeer
There are many great career blogs that are niched to career-related topics, like work-life balance, career coaching or career sites specifically for women. But Career Rocketeer is an easy read that covers a wide range of topics, with a focus on transitioning into employment––an excellent resource for business students who are preparing to graduate.
Starting with these blogs can help open the door to blogs in more specific niches, like operations, accounting or finance. And reading a mix of these blogs daily can help you feel confident you know about business trends and news.
Interested in learning more about the business world? Explore online business degree programs at AIU.