A SMART Way to Stay on Track with Your New Year's Career Goals
A SMART Way to Stay on Track with Your New Year's Career Goals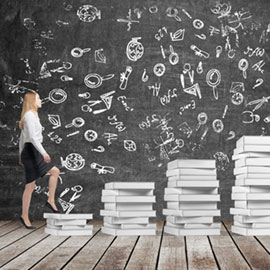 The new year is well underway, and your resolutions have long been set. If you are one of many people who decided to put focus on your professional development this year, establishing a solid career management plan and setting measurable and achievable goals, you aren't alone! But now that the excitement of the new year has faded, it's time to reassess where you are to ensure you are staying on track with your goals and aspirations. Here are a few questions you can ask yourself to help you stay on track with your goals:
Were Your Goals the 'SMART' Choice?
SMART is an acronym for Specific, Measurable, Achievable, Relevant, and Time-Bound. It's a great way to uncover whether your original goal is realistic, or if some readjustments need to be made. Learn more about how to do this evaluation by exploring the questions below.
Was Your Goal Specific Enough?
Many people focus on job titles when looking for new positions, but that approach can cause a job seeker to be overwhelmed with too many job openings to review, or at times, not enough. Try getting more specific by finding organizations that have a need for your existing expertise and skills. Focusing on specific skills or responsibilities when searching for job openings can result in a wider variety of job titles that you may have never considered before.
Did You Establish Measurable Milestones?
Using quantifiable measurement is the most effective way to ensure you are staying on track and accomplishing your goals. This might mean setting a goal to apply to a certain amount of positions a week, or dedicating 10 minutes each day to researching a company you want to work for. Setting smaller milestones for yourself to achieve will help in building your motivation and perseverance. It's also important to track if you are achieving these goals. If not, consider if the overall number is unrealistic and in need of adjustment.
Was Your Goal Achievable?
This is the time to be real with yourself and to evaluate if you are hitting your targeted goals. If not, identify what needs to be done to get where you want to be. Do you need to incorporate short-term goals first? Sometimes original goals can be a bit too ambitious. The key is to determine what adjustments need to be made in order to make the goal achievable.
Is Your Goal Relevant Now?
This step requires that you reflect back to when you originally set your goal, and evaluate if the reasoning behind your goal is still important and relevant to you now. Does it still make sense to continue to strive for this specific goal, or do you need to do some restructuring?
Did You Establish a Realistic Time Frame?
Evaluate the time frame you gave yourself to accomplishing your goals, or consider incorporating a deadline now. Setting firm deadlines allows you to consider the bigger picture, but be realistic! Consider the short term goals you have to accomplish first, and determine how long they will take. This can help you stay on course for your overall long term goals.
The decision to focus on your professional self is a big one, so no matter where you are with your goals, remember to never give up. And while it may seem like a big hill to climb, remember that a solid career doesn't happen overnight. Setting goals and staying on track is challenging, so don't forget to enjoy the journey and feel proud of how far you have already come!
If you're a current AIU student or alumnus looking for more career advice, please contact the Career Services Department at 877-221-5800 Option 5 or careerservices@aiuonline.edu.