AIU Atlanta Launches Student Veterans of America Chapter
AIU Atlanta Launches Student Veterans of America Chapter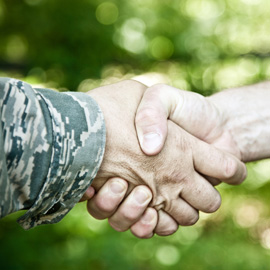 AIU is pleased to announce that the university has established a chapter of the Student Veterans of America (SVA) at our Atlanta campus. On the heels of the AIU Atlanta Veterans Center opening in July 2016, the Student Veterans of America chapter was added to provide another way for veterans to meet, connect with each other and work with dedicated mentors.

AIU Senior National Military Relations Manager Trent Orndorf serves as the advisor for the chapter, which expects to grow quickly. "We started off with 30 members, but I anticipate our chapter to grow to about 100," Orndorf estimates.
SVA's mission is to provide military veterans with the resources, support, and advocacy to help them succeed in higher education and after graduation. After joining an SVA chapter, military students have access to a network of peers from various universities across the nation. Student Veterans of America also provides programs and services to chapters and the individual student veterans in each group, including a chapter grant program that can provide funding for campus-based initiatives. There is no cost for membership.1
Being a member of the SVA at the AIU Atlanta campus has its benefits – soon after the chapter launched, the annual Military and Veteran Career Conference was open to members to help them make informed career decisions, identify employment opportunities, learn about the skills and experience valued by employers and plan an effective job search.
The SVA also offers a Leadership Institute Series to bring student veterans together, exchange chapter best practices and explore campus-level concepts that can ease a veteran's transition from the military to higher education and then to the workforce. 2
The annual SVA National Conference has been the largest gathering of student veterans in the world since 2008, according to the organization, and provides a valuable opportunity for members to connect with student veterans from across the country, attend informative seminars, and meet with representatives from companies seeking to hire educated veterans.3
According to the New York Times, a study by Operation College Promise and the Pat Tillman Foundation suggests that student-veterans thrive in "supportive" schools. It analyzed the academic progress of 200 veterans attending colleges with services, such as mentoring programs. Additionally, participants maintained a 3.04 grade point average and 94 percent stayed in school from fall 2010 to spring 2011, which surpassed national rates. 4
Participants in AIU's SVA chapter must be active-duty military or veterans currently attending AIU. The AIU Military Relations Department also can help provide military students with information about university services, resources and networking opportunities. For more information, visit http://www.aiuniv.edu/military-students.
---
1. Student Veterans of America. "FAQs." Retrieved from http://studentveterans.org/chapter/faqs. (Visited 1/19/17)
2. Student Veterans of America. "Leadership Institute Series." Retrieved from http://studentveterans.org/programs/leadership-institute-series. (Visited 1/19/17)
3. Student Veterans of American. "The 9th Annual SVA National Conference." http://conference.studentveterans.org/. (Visited 1/19/17)
4. "Coming Home from War to Hit the Books." Retrieved from http://www.nytimes.com/2012/03/01/education/soldiers-come-home-to-hit-the-books.html. (Visited 1/19/17)