Meet AIU BBA & MBA Alumna Inge Teal-King
Meet AIU BBA & MBA Alumna Inge Teal-King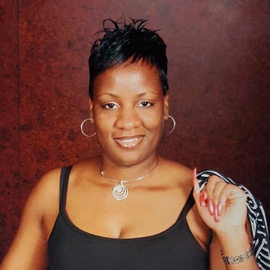 It's never too late to return to school and finish your education! It's an often-heard statement, but Inge Teal-King took it to heart and recently returned to AIU to complete her second degree, an MBA.
In this edition of #AIUStrong, we talked to Inge, an alumna who never let outside factors (or naysayers) deter her progress toward her educational goals. We hope you will be inspired by the keen insight and positive outlook on life that keeps this self-described "glam-mother" ascending the ranks in her career while maintaining balance in her personal life.
Meet Inge Teal-King
Degree: Bachelor of Business Administration (specialization Human Resource Management); MBA with the same specialization
Grad Year: 2009 (BBA) and 2016 (MBA)
Military Service: United States Army (veteran)
Why did you choose AIU to further your education?
AIU offered the convenience of a comfortable learning environment, friendly knowledgeable professors and a professional caring staff – and I'm only skimming the surface.
I absolutely adore studying with AIU's software intellipath®, because I could study relevant material that I deal with every day on the job. The software allows you to study at your own pace, and even if you don't do so well on the quiz, it's not a problem. You can go back and revise your studies for a better score if needed.
I am simply tickled pink at how AIU fit me to the right courses, not me trying so hard to fit myself into the courses. AIU made it these courses feel tailor made. It was a perfect match and fit each time.
How did you balance your education, career and family during school?
AIU took away those pressures of me racing through traffic to get to class, trying not to be tardy and in danger getting dropped from a class. Balancing my education, career and family during school also required me and taught me to become this unique individual to manage time like no other.
I am a "glam"-mother (glamorous grandmother), and I help care for my grandchildren and my parents while working. While I was preparing myself for my last two classes I got a call that my mom had fallen very ill. l dropped everything at that time because my mom needed me. AIU allowed me to make arrangements with my friendly and caring instructors if I needed to get my assignments completed later. I can testify to having AIU helping me find a true balance to being an online student with my career and family responsibilities.
What was your favorite part of the academic experience at AIU?
My favorite part of the AIU academic experience was the group projects. I got the chance to actually bond with a group of 5-6 of my fellow classmates. It was a neat thing because I learned that some of their traits were similar to mine.
I must say the discussion board is no substitute for the small group project. I feel like I made an "e-bond" with some amazing people that I studied with from all across the world.
How has earning your degree impacted you professionally?
After finishing my degree at AIU, I have the confidence of Kim Kardashian. I've had interviews where the employer would call me back before I could even make it home. After graduation, I received some of the most amazing career offers, and I could afford to be selective for a change. I currently work as a Senior Specialist, Training & Development/Human Resources.
My HR skills have reached an all-time high, and most of all, my written and verbal communication skills are where they need to be for my future career aspiration. I desire to be the manager of a Human Resources department someday. I am professionally confident in all that I do and go beyond what is expected of me because of AIU.
What has been the greatest change to your life since graduating from AIU?
Proving all of those naysayers wrong who called me crazy because they thought I was putting too much on my plate! It brings tears to my eyes because I almost believed them at one point and I would have missed out on this very opportunity of my testimony (I made it!).
I had to immediately give up being fearful of change, and, yes, negative self-talk. I had family matters, was between careers at one time, and even had military obligations that I was committed to. I have lost friends because of this path that I have taken. There were many days when I turned down invitations to have a drink or chat because I was committed to my new study habits.
You have to come to terms with yourself when a commitment is made. You must follow through and never give up. I tell my daughters that service to others is very important, because it is also service to yourself in return.
If you enjoyed Inge's story, meet more alumni on our blog.