Show Your Appreciation for Military Service Members and Their Families
Show Your Appreciation for Military Service Members and Their Families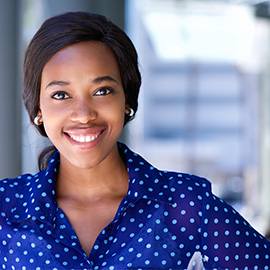 November is Military Family Appreciation Month. It is a time to honor and recognize military families and their commitment to our nation.1 At AIU, military students and their families are an integral part of our community, and we are committed to serving them. We understand their need for flexibility as they balance careers, long distant relationships, home life, and volunteer in their communities and their kids' schools.2 However, being a member of a military family isn't easy. But simple acts of kindness can help show appreciation and support for their sacrifice and their service.
Consider the following gestures of kindness to show your appreciation for military families.
Volunteer Your Time and Visit a Wounded Warrior
Visit wounded service members to acknowledge the importance of their service and the value of their sacrifice. Time spent with uniformed service members is especially meaningful to those injured and can help boost their morale and remind them that their fellow servicemembers have not forgotten them.3 Local VA Medical Centers may be contacted to ask about visitation rules and regulations at VA Community Living Centers.
Snail Mail or Hand Deliver a Thank You Note
Thank a service member, in writing, for his or her service and involve your family. Notes from children are just as meaningful as notes from adults. If you don't know a service member, make cards for veterans to honor their service and deliver them to your local VA facility. Sending a written note may not be as popular as it once was, but it is still meaningful.
Support a Military Spouse
Military spouses sacrifice their careers to follow their service members around the world while caring for their families and maintaining their homes during deployments.2 Therefore, when honoring those who serve in the military, remember the spouses. Simple gestures such as dropping off a meal, sending a restaurant gift card, or offering to babysit can go a long way in showing your appreciation and recognizing their commitment to their family.4
Send a Care Package
Receiving a gift shows you are cared for and valued. Therefore, if you know a military family or know someone who does, prepare a care package to express your gratitude for their service and sacrifice. Consider basket themes such as:
Chocolate Lovers – Include items like chocolate-covered cherries or strawberries, flavored coffee, chocolate pretzels, and truffles.
Spa Day – Bath salts, scented candles, nail polish, Castile soaps, moisturizer, and magazines are just a few items you might include to help encourage relaxation.
Family Movie Night – Include popcorn, boxed candy, peanuts, and chewing gum. Also, consider adding family-friendly films or gift cards that the family can use to buy movies of their choice.
Romantic Date – Military life is stressful. Offer a basket for the adults to relax and rekindle their romance. Include items such as a bottle of wine and glasses, massage oil, scented candles, chocolates, caramel corn, and classic movies.
House Warming – Cleaning products help keep a home clean, but who wants to buy them? Laundry detergent, toilet bowl cleaner, paper towels, toilet paper, and dish soap are useful products to give a family. If you live close by, you may even consider offering your time to help clean.
Don't Forget the Kids
Some say that, on average, military children change schools six to eight times during their parent's military career.2 When honoring military families, remember the children who also make sacrifices when saying goodbye to their homes, friends, and family members. Acknowledge these sacrifices with gifts of thanks. One idea is to give money to help send a military child to an Operation Purple Camp through the National Military Family Association.5, 6 Another idea is hosting a party to recognize the children of military families if you have kids with military children for classmates.5, 7
Host a Military Family Appreciation Fundraiser
Civilian supporters may host fundraisers within their neighborhoods, places of employment, and communities in honor of military service members and their families. Any contributions received can be given to organizations that support military families such as the National Military Family Association, the American Red Cross, Trees for Troops (an organization that offers Christmas trees to military families), Veteran Services Organizations, or Operation Homefront.5, 8
Honor Military Families Year Round
As of September 2017, U.S. military services members consisted of 1.3 million active duty military personnel and over 800,000 reserve forces, according to the Defense Department's personnel data.9 While we recognize military families each November, remember that their commitment and service are year-round. Therefore, acts of kindness need not occur during scheduled times of recognition. Saying "thank you" can happen at any moment. Join us as we honor and support our military families.
---
1. "Military Family Appreciation Month." Military.com. Retrieved from: https://www.military.com/military-family-appreciation-month (Visited 10/03/2018).
2. "Why Appreciate Military Families?" Military.com. Retrieved from: https://www.military.com/military-family-appreciation-month/reasons-to-appreciate-military-families.html (Visited 10/01/2018).
3. "Showing Appreciation to the Nation's Wounded Warriors." Military.com Retrieved from: https://www.military.com/join-armed-forces/2015/04/28/showing-appreciation-to-the-nations-wounded-warriors.html (Visited 10/01/2018).
4. "4 Tips for Military Appreciation." Military.com. Retrieved from: https://www.military.com/military-appreciation-month/4-military-appreciation-tips.html (Visited 10/01/2018).
5. "Civilian Supporters." National Military Family Association. Retrieved from: http://www.militaryfamily.org/get-involved/volunteer/civilians.html (Visited 10/03/2018).
6. "Operation Purple Camp: What is Operation Purple Camp® and Why is it PURPLE?" National Military Family Association. Retrieved from: http://www.militaryfamily.org/kids-operation-purple/camps/ (Visited 10/03/2018).
7. "How Kids Are Helping Bridge the Military-Civilian Divide." Military.com. Retrieved from: https://www.military.com/spousebuzz/2018/04/11/how-kids-are-helping-bridge-military-civilian-divide.html (Visited 10/03/2018).
8. "Christmas Programs for Military Families in Need." MilitaryBenefits. Retrieved from: https://militarybenefits.info/christmas-programs-for-military-families-in-need/ (Visited 10/03/2018).
9. "Military Active-Duty Personnel, Civilians by State." Governing.com. Retrieved from: http://www.governing.com/gov-data/public-workforce-salaries/military-civilian-active-duty-employee-workforce-numbers-by-state.html (Visited 10/03/2018).