Parenting and College: Teach Responsibility Through 5 Study Habits
Parenting and College: Teach Responsibility Through 5 Study Habits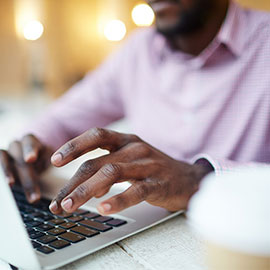 Taking online college classes while caring for children or other family members is a great responsibility. You need to manage your time well to complete your classwork and balance your family and work obligations. However, as a parent or guardian, you turn your own learning experience into a teaching experience!
Encourage responsibility and teach your family five ways they can improve their study habits:
1. Make homework a priority.
Have your child schedule time to complete homework every day after school. Maybe your child prefers having downtime after school and completes homework in the evenings after dinnertime. Or, maybe your son or daughter enjoys getting homework out of the way right after school. Identify what works best for your child and make sure your child sticks to it. Keeping a consistent schedule can help to establish a routine to support homework completion.1
2. Create a stress-free study space.
Depending on your schedule and your child's, your child may complete homework anytime and anywhere. But, an atmosphere conducive to learning may help your child remember information better.2 Designate an area in your home for your child's homework and studying. Just like you may have a workspace dedicated to completing your college coursework, ensure your child does too. Fill the space with supplies such as paper, pencils, art supplies, etcetera, and make sure the lighting is sufficient.3 Personalize their workspace with things they enjoy such as photographs, posters, or journals.
3. Teach time management practices.
Time management is an essential life skill.4 Learning how to master your time can minimize stress and improve your quality of life. Set your kids up for success later in life by teaching them how to plan, prioritize their time, set goals, and organize.3
Use a calendar to create a routine.
As a parent, you want your children to manage their time without having to hover or nag. So, have each child think about the tasks he or she needs to accomplish each day and ask your kids to list their responsibilities from most important to least important. Do your children have daily chores to complete? Is any child part of a team or extracurricular activity? Work with your children to prioritize the tasks they must complete daily and decide which ones they can delay until the weekend.5
If any of your kids take part in a sports team or other extracurricular activity, a schedule can be a useful tool to maintain a system and ensure all responsibilities are complete by the day's end. If you have a young child, you might create a visual calendar with pictures showing homework time, chores, mealtimes, bedtime, etcetera. You can even have your child check off each task once complete to illustrate how you can break a day's responsibilities into smaller, manageable ones.5 Checking off tasks may also help your child feel more accomplished and eager to keep his or her routine. Don't forget to reward your children for jobs well done!
Set limits.
Using a timer to complete homework can encourage productivity and discourage procrastination. Set a specific amount of time for your children to complete tasks. This may help prevent them from feeling overwhelmed or procrastinating. Encourage your children to focus on their tasks until the timer runs out. When your kids know what to expect, they may be more productive and less likely to get off track. Focusing for a long period can be difficult for adults; so, set realistic goals for your kids just as you would do for yourself.5
4. Search for reliable resources.
As an adult student, you complete research papers and projects that require the use of reliable resources and search engines. Instructors, librarians, and student advisors may even direct you to scholarly articles and legitimate sources through an online library like the one available to AIU's online students. Your guidance can show your children how to decipher fake news better, which may support improved learning and research experiences.3
Use your knowledge and experience to teach your kids about reliable resources like: 6
BrainPOP/BrainPOP Jr.
World Almanac for Kids
KidsClick!
Fact Monster
Introduce your children to the library and direct them to the areas designated for biographic and scholarly content, and magazine and academic resources. Ask a librarian to show your children how to access any available databases. If they are old enough, consider allowing your kids to get their own library cards. Help them navigate the library now so they will have the tools to use later.
5. Lead by example.
Even though you are working toward your degree and are juggling several things at once, you can still find a balance between completing homework and spending time as a family: Do it together! Show your kids what a good work ethic is and why improving their study habits is important. When you exhibit responsibility and maintain good habits, your children may follow suit and want to join you.
Lead by example. When you can (and when it's practical), work on homework as a family. Seeing you read, study, research or write may encourage your family to do the same!
---
1. "How Parents Can Help Kids Refresh Their Study Habits." U.S. News & World Report L.P. Retrieved from: https://health.usnews.com/wellness/for-parents/articles/2018-01-09/how-parents-can-help-kids-refresh-their-study-habits (Visited 08/06/2019).
2. "How to Create a Stress-Free Study Space." Scholastic Parents. Retrieved from: https://www.scholastic.com/parents/family-life/parent-child/how-to-create-stress-free-study-space.html (Visited 08/06/2019).
3. "5 Ways to Build Strong Study Habits at an Early Age." Huntington Learning Center. Retrieved from: https://huntingtonhelps.com/resources/blog/5-ways-to-build-strong-study-habits-at-an-early-age (Visited 08/06/2019).
4. "Time Management Is Really Life Management." Entrepreneur. Retrieved from: https://www.entrepreneur.com/article/242855 (Visited 08/06/2019).
5. "The Age-by-Age Guide to Teaching Kids Time Management." Scholastic Parents. Retrieved from: https://www.scholastic.com/parents/family-life/parent-child/teach-kids-to-manage-time.html (Visited 08/06/2019).
6. "Identifying Reliable Sources and Citing Them." Scholastic Parents. Retrieved from: https://www.scholastic.com/teachers/blog-posts/angela-bunyi/reliable-sources-and-citations/ (Visited 08/06/2019).