How to Be More Productive By Improving Your Focus
How to Be More Productive By Improving Your Focus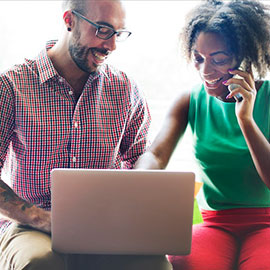 Completing assignments for your online degree while working and maintaining your personal life may be a challenge, even with a plan in place. However, there are steps you can take to maximize your work time!
Boost your productivity and focus by practicing these 7 tips:
1. Prepare before you start.
Your life is busy, and finding time to get everything done may seem impossible. But, planning is one way to make the most of your work time. Before working on a class assignment, make sure you have everything you need. When your instructor assigns an online classroom Discussion Board (DBs) post, for example, plan and prepare your response before the deadline approaches:
Review the lesson to ensure you understand the key concepts
Read the assignment carefully and identify the requirements and instructor's expectations
Draft your response and then check your word count
Correct any grammar and spelling errors
Reply to your classmates' feedback with valuable responses
You can also apply several of the above steps when writing a research paper. However, you must research your topic and identify the sources you need before starting the writing process.
2. Build a routine.
Are you a morning person, or do you prefer working in the evening? Figure out your body's clock to determine when you work best and arrange your schedule to complete coursework during those times.1 For instance, some people are the most focused and awake in the morning. But by the afternoon, their concentration levels decrease. Find what works best for you!
Establishing a routine and setting firm deadlines might also limit procrastination and help you stick to a schedule so you don't fall behind on assignments.1 At the start of the quarter, read through each syllabus and record when assignments are due. You can do this either digitally or via a hard copy so you don't miss important deadlines.
3. Set daily goals.
One way to boost motivation productivity is by completing longer projects over several days or weeks. Organize any assignments that require several steps into "manageable chunks" so you can concentrate on one section or subject at a time.1 Doing so may help reduce any feelings of stress or anxiety.
4. Eliminate distractions.
Technological advancements in social media and text messaging allow users to connect to friends and family anytime. However, these advancements are also great diversions from work. Some social media apps, for example, are addictive by design: They reward people with notifications and fresh content to sustain user interest.2 Yet because of their "infinite-scrolling potential," the apps never offer a "sense of completeness." As users, we never feel as though we've seen it all. If refocusing takes a person 23 minutes and 15 seconds after every distraction, consider how much time we lose after clicking a notification several times during a work session—too much!2
Maximize your work time and limit your distractions by turning off your notifications, putting away your phone, and disconnecting from your Wi-Fi if you aren't using it to complete an assignment. You might also challenge yourself to work for a specific amount of time without distractions—30-45 minutes—and reward yourself after you meet your challenge. The goal is to maintain your self-discipline when using apps and websites that are "likely to steal your attention."2
5. Enlist a team.
If you're a working parent, a support team can be a great asset when you're struggling to complete daily tasks and coursework to complete your undergrad degree. Ask friends or family to help watch your kids while you work on homework and projects. If you're in a relationship, ask your partner to assist with running errands and cleaning. Any amount of help from others can be valuable while achieving your degree! Furthermore, you might worry less about fulfilling personal obligations and focus on your coursework better.
6. Prepare before you start.
Before sitting down in front of your computer or notebook, make sure you have anything you need: books, water bottle, coffee, paper, pens, snacks, etcetera. Also, consider your location. Are you working in an area free from distractions? Do others know not to interrupt you? If you're working from home, let those with whom you live know not to disturb you for a designated amount of time. The goal is to ensure nothing interrupts your focus so your work time is productive.
7. Take breaks when needed.
Although maintaining your focus and completing coursework is important, you don't want to burn yourself out by working too hard or for too long. Schedule short breaks to stretch, eat and clear your head. Sometimes stepping away from your work can allow you to return refocused, refreshed, and more productive.2
To find more student success advice and study tips as you attend AIU, explore more on our blog.
---
1. "18 Proven Ways to Stay Focused That Increase Productivity." Entrepreneur. Retrieved from: https://www.entrepreneur.com/article/318730 (Visited 09/09/2019).
2. "Distractions Are Hurting You More Than You Realize: Here's Why"." Entrepreneur. Retrieved from: https://www.entrepreneur.com/article/314677 (Visited 09/09/2019).