4 Ways to Earn College Credit for Life Experience
4 Ways to Earn College Credit for Life Experience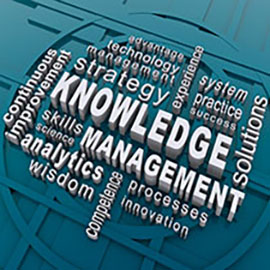 Deciding to pursue a college degree could potentially help you move forward in your career or even get a new start in a different field. However, as a working professional with years of experience, could your already-retained knowledge or skills be applied towards your chosen degree program?
Yes! Your past or current work experience has the potential to count towards your college degree. In fact, universities, such as AIU, offer credit opportunities for work, life, school, or military experience*. Consider the following ways you may earn college credit for your life experience at AIU:
1. College-Level Examination Programs (CLEP)
One option worth exploring is the College-Level Examination Program (CLEP), a nationally-recognized college credit-by-exam program designed to see how your prior academic and professional experience may apply to your college degree. Only a college or university may award credit toward a bachelor's degree program, and not all institutions have the same CLEP policies.1 CLEP is accepted by 2,900 colleges and universities, and over 1,800 test centers administer CLEP exams.1 Speak with an AIU Prior Learning Assessment Specialist to learn which CLEP tests may best fit with your degree plan.
2. Experiential Learning
You may be awarded credit if you can prove college-level knowledge and experience on a subject. To earn college credit for qualifying professional skills, you may be asked for a portfolio of work that documents your understanding of the material. A panel of instructors or subject-matter experts will review, judge, and score your portfolio once complete.
Although creating an experiential portfolio can be time-consuming, putting in the effort may be valuable in the long run, especially if you can decrease the cost of your degree and your time completing it. Contact AIU's admissions department about your experiential learning credit eligibility or ask to speak to a Prior Learning Assessment Evaluator about project approval to help get you started.
3. Transfer Credit
If you earned past college credit, don't assume those classes won't transfer towards your new degree plan. You may be eligible to receive transfer credits, even if you took the classes several years ago*. Review your school's transfer credit policy to learn what your school's transfer grade requirements are and how many of your credits may be transferable. For example, you may need to give your school a copy of your transcripts for a Prior Learning Assessment Evaluator to review. AIU accepts eligible transfer credits from accredited U.S. institutions.
4. Credit for Military Experience
If you are a military service member or veteran, you may be eligible to earn college credit for your military service, training, and experience through programs such as DSST or CLEP. DSST exams are college subject tests that students can take to earn college credit for knowledge gained outside the classroom. There are 38 subject exams offered in areas such as business, humanities, math and physical science.2
The Defense Activity for Non-Traditional Education Support (DANTES) is a Department of Defense agency that provides leadership and support through partnerships across the education community. DANTES is the agency that established DSST exams. College credit recommendations for DSST exams are made through the American Council on Education (ACE) and are subject to an academic institution's acceptance.2
DANTES will pay for one attempt per exam title for eligible examinees.2 Therefore, military service members may be eligible to take a DSST exam for free. Check with AIU's admissions department to learn more about our credit evaluation process.
Service members may also qualify for credit for military training and experience through the MOS Pledge program*. Through AIU's MOS Pledge, students may receive transfer credit for previous qualifying military training and experience based on their MOS Code. Speak with a Prior Learning Assessment Specialist at AIU to decide which exams to pursue and any credit for which you may qualify. Your Education Services Officer or Test Control Officer can also give you further information and testing procedures.
Learn More Ways to Earn Credit at AIU
If you are thinking about returning to school, learn more about your options before you get started! View AIU's transfer credit information to find out how you may receive credit for previous college, military, or work experience*.
---
1. "How the CLEP Program Works." The College Board. Retrieved from: https://clep.collegeboard.org/about-clep/key-exam-information (Visited 10/02/2019).
2. "College Credit By Examination (CLEP & DSST)." DANTES. Retrieved from: http://www.dantes.doded.mil/EducationPrograms/get-credit/creditexam.html (Visited 10/02/2019).