7 Tips to Set Up a Workspace for Online Learning
7 Tips to Set Up a Workspace for Online Learning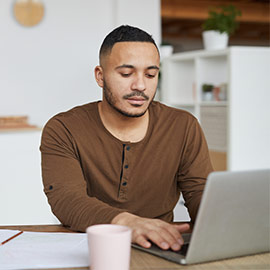 Now that you've enrolled in an online degree program at AIU, or started researching your next academic steps, it's time to create a special area in your home dedicated to learning. The following tips can help you design a space that meets your studying needs and your personality:
Steer clear of distractions.

Are you prone to distractions? Does noise break your concentration? Rooms where people gather to eat or hang out, like the kitchen or living room, might make it harder to focus. Pick a quiet place where you can concentrate on your work and education. Look for a spot in a bedroom or basement if you don't have an entire room to use for this purpose.
Choose practical furniture.

A chair that supports your posture is vital. Ergonomic desk chairs, those designed for the working environment, are comfortable and efficient, providing lumbar support. If you have space, add a desk or table that can fit everything you need to study and office supplies. Avoid furniture that makes you sleepy, like soft couches or recliners.
Opt for an organizational storage unit.

Streamline your study process by always knowing where everything is. Get organized for class by using a bookshelf or storage unit with shelving to arrange your books, binders and notebooks. You could also use foldable fabric bins to reduce office clutter and store supplies. If you don't have a spare bookshelf to use in your study space, you could visit your local thrift stores or reach out to friends and family to see if they have one to offer.
Include adequate lighting and pops of color.

Direct sunlight reduces eye strain, headaches and drowsiness.1 Place your desk close to or under a window to help boost your work productivity and focus. If you study in the evening, simulate natural lighting with neutral white bulbs or cool white light fluorescent bulbs.2

Paint your study room a color that makes you happy and encourages you to stay and work. Blue, for example, can stabilize, soothe and support concentration. Accent pieces in hues like yellow may help stimulate creativity, and green may be a tranquil color for those working long hours.3
Improve the atmosphere with greenery.

A plant can enhance your space by creating ambiance and improving air quality. Studies have shown that adding greenery might reduce stress and improve work productivity. Indoor plants like the peace lily and Chinese evergreen require minimal care and thrive in low lighting.4
Introduce inspirational elements.

It's important to enjoy your study space to encourage yourself to spend time there. Include things that inspire you or things that you just like, including flowers, artwork, rugs, or a photo of your loved ones. Be careful not to include distracting items, but do make it a happy place.
Control the noise.

You have found a quiet area to set up your workspace, but life does tend to creep in. Post your study schedule on a calendar that alerts your family or roommates to your needs and expectations. This might help cut down on miscommunication and disruptions.

Otherwise, look into noise-canceling headphones or a white-noise maker. White noise can conceal unwanted sounds, which might be useful during an online lecture or group chat. Working with a soft noise like rain or beach waves in the background could be relaxing and can help some people tune out distractions and focus.5
For additional student success advice and study tips, check out the AIU blog.
---
1. "The #1 Office Perk? Natural Light." Harvard Business Review. Retrieved from: https://hbr.org/2018/09/the-1-office-perk-natural-light (Visited 09/14/2020).
2. "How to Use Lamps to Set the Mood in Your Home." SFGate. Retrieved from: https://homeguides.sfgate.com/use-lamps-set-mood-home-97190.html (Visited 09/14/2020).
3. "How the Color of Your Office Impacts Productivity (Infographic)." Entrepreneur. https://www.entrepreneur.com/article/243749 (Visited 09/14/2020).
4. "20 Indoor Plants That Can Improve Your Office Environment." Small Business Trends. https://smallbiztrends.com/2014/11/indoor-office-plants.html (Visited 09/14/2020).
5. "Does White Noise Help You Learn?" Psychology Today. https://www.psychologytoday.com/us/blog/memory-medic/201706/does-white-noise-help-you-learn-0 (Visited 09/14/2020).