AIU Student Profile: Keegan F.
AIU Student Profile: Keegan F.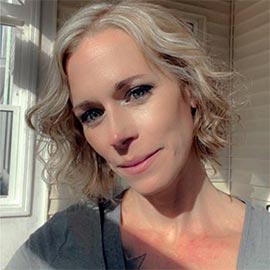 One day, Keegan F. was on her computer and came across an ad that said, "Would you be willing to pursue your degree further?"
"I clicked yes, and then got a phone call from [Sr. National Admissions Advisor] Micah H.," she said. After speaking with him about AIU, she enrolled. "I took it as a sign to get my degree."
Having worked in the pharmacy industry for over 17 years, Keegan decided to pursue her Bachelor of Business Administration degree with a specialization in Human Resource Management. "I have been through every situation an employee could possibly think of. I wanted to get a degree to advance my career and help the company. HR isn't just about helping the employees; it's about seeing both sides – the employee's and the company's."
As a certified pharmacy technician in New Hampshire, Keegan is already putting the knowledge from her courses into practice. "I told my team they're my trial-and-error run to learn from. The things I've learned from my communication and business classes, I've implemented into my everyday work. Out of 16 years with Rite Aid, my current team of new technicians has been the best. They take what I say, implement it, and apply it. My classes have helped me talk to my coworkers, while guiding them in the right direction."
In addition to her full-time job, Keegan has a full life outside of work, which could make attending a traditional brick-and-mortar college difficult. "I definitely would never have time to go to [in-person] classes. I'll be in the middle of an assignment or reading, and my daughter wants me to play. Attending online, I can pause what I'm doing, play with her, and return to my work during her 'calm down time' when I get most of my work done."
With everything packed on Keegan's plate, she has this piece of advice for those contemplating college: "Don't think you can't. If I can figure out how to work full-time, do all the stuff a stay-at-home mom does, have a family of six with my boyfriend, his three teenagers, our three-year-old daughter, AND get my schoolwork done, anyone can. Where there's a will, there's a way! I make certain timeframes at home when I do my work. You just have to find your niche of how you learn."
Having proper support helps, too! "My advisor Micah is amazing. I had a point where I said, 'I can't do this; there's no way.' He talked to me. He said, 'You can do this.'" She stuck with it, and now is well on her way towards attaining her BBA degree.
AIU is home to many working adults returning to college or going to college for the first time. "After high school, I went right to work. I didn't know what I wanted to do yet. I worked for a sewer company, a daycare, restaurants, I got into tattooing, then I fell into pharmacy and finally figured out what I wanted to do. Now, I'm nationally certified!"
With her BBA degree in progress, we can't wait to see where Keegan lands!