What Questions to Ask (and Not to Ask) at an Interview
What Questions to Ask (and Not to Ask) at an Interview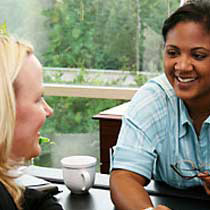 We've all been there. You're coming to the end of an interview and you get asked that final question: "Do you have any questions for me?"
In your head, you are saying, "Nope, that pretty much covers everything," but you know you have to say something, right?
Yes, you are correct. You should always have questions prepared before you go into the interview, and you may come across new questions once you're there and know a little bit more about the position and the company.
To prepare beforehand, do research on the position and the company. You can look at the company's website and look at their About Us page or even their History page. Learn about where they started, how long they have been in business, what their mission statement is, etc.
Then look up the position on the company website and even use Google to look up the job title to find out more specific job duties/responsibilities. Once you know more about the company and the position, you will be comfortable asking the right questions.
But what are the right questions? Below are a few topics to think about beforehand. These may be answered throughout the interview, but they may not. It is best to be prepared with 5 to 10 questions so you know you will have a few left over to ask.
Why is this position open at this time?
What happened to the previous person in my position?
How did you progress to your present position?
How will my performance be measured? How will my performance affect the company's objective?
Can you give me examples of superior job performance by someone in this position?
What is a typical day like?
What kind of person are you looking for?
What kind of training is provided?
What are the challenges of this position?
When are you looking to fill the position?
How soon should I expect to hear from you?
What is the next step in the interview process?
Of course, you may be asking, what things should I not ask? There are a few of those as well to keep in mind...
How do I get your job?
What kind of salary are you offering?
How do you handle sexual harassment?
What kind of criminal background check will you be performing?
Does the company organize social events?
Do you provide tuition reimbursement?
How soon will you be contacting my references?
If you're interested in practicing a mock interview, AIU Career Services offers this opportunity for students and alumni. Mock interviews can help you avoid mistakes during the real thing. To schedule one, call your Career Services Advisor today at 877-221-5800 ext. 15060.
---
Read These Related Articles: