The Story of AIU's Dr. Judy Bullock: How an Administrative Assistant Climbed the Ladder
The Story of AIU's Dr. Judy Bullock: How an Administrative Assistant Climbed the Ladder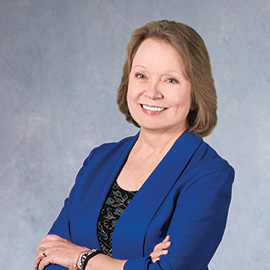 University Dean Dr. Judy Bullock's journey to the top started with a 3 a.m. phone call back when she was working as an administrative assistant. She was on vacation and her boss woke her up telling her to be in the office by 6 a.m. This wasn't optional.
So she went in. She was angry, but she went. That day, she realized she had settled for less. "It wasn't until I got upset that I realized I allowed myself to get in these positions. I decided, 'No, I can choose to not put myself in these situations. I can choose to be the person driving my career rather than letting someone else drive my life,'" she said. "I realized I was doing the tasks and duties of my managers independently, but didn't feel I was valued equitable to my contributions."
Dr. Bullock decided to invest in herself through education. "It was liberating early on to realize the only difference between me and the people I worked for was they had a degree and I did not. And it's not just the skills you possess, it's the confidence and capabilities you exude. Knowing I could do it and that I had made my executives look good [through the work I did for them], I knew I could do it for myself. It was very empowering."
For six years, she pursued her bachelor's degree while working full-time. While the road was long, she continued to move forward. "Pity parties don't get you ahead. It's human nature to play the victim, but the ability to grow comes from self-reflection. ... 'What am I doing that keeps me here?' 'What do I want?' and 'Do I have the ability to take control of my future?' The answer is always 'Yes.'"
Dr. Bullock found benefits in going to work and school simultaneously. "It gave me different insight into what I was learning, and it also allowed me to make different contributions at work."
Twenty years and two children later, Dr. Bullock decided to pursue a Master of Business Administration degree. "My skills were dated. Those right out of college were more attractive candidates for positions." With a family, Dr. Bullock knew she couldn't attend school in person. "Getting my degree online made it easier to juggle school; otherwise, I would never have gotten my master's. I would read bedtime stories to my kids. When they'd fall asleep, I'd turn around and get on the computer to do schoolwork. I believe in online education. It works."
After her MBA, Dr. Bullock didn't stop adding acronyms to her signature. These days she is Judy Bullock, Ph.D., CPA, CGMA, MPA, MBA, MHRM, ChFC. "I just love learning," she says. "I've worked for people who had settled for 'enough' when there was so much more to learn. ... You have to constantly reinvent yourself."
Dr. Bullock rose from entry-level positions all the way up to serving as a corporate vice president of a 66,000-employee organization, working with the executive team and directly supporting the Board of Directors. Today, she serves as AIU's University Dean of the School of Business. Despite her rise up the ladder, Dr. Bullock gratefully acknowledges her roots. Thanks to her time as an administrative assistant, she remains highly organized, systematic, methodical, resourceful and self-sufficient with computer skills and documentation. "Those skills are timeless. I don't consider that role to be beneath or below others—it's the ground the ladder stands on. ... Through my entire career, I strive to never forget where I started from. It's easier to work with a team if you have that background—you're more sensitive to people."
Dr. Bullock also tries to pay it forward. "I promote people who work for me beyond me." To be successful, though, she stresses the importance of planning. "It's absolutely fundamental to have a plan for where you want to be in two to three years, in five years. Employers often ask, 'Where do you see yourself in five years?' They're looking for focus, purpose, determination, and that you have a plan. Like the old saying goes, 'Failure to plan is planning to fail.'" While there will be bumps along the way, she says, you need to have back-up plans for contingencies.
While planning, determination and continually learning can improve your career, they can also heighten your self-worth. "Self-confidence is something you build," Dr. Bullock said. "Just like the train that could, you have to think you can. ... Having confidence in what you know, and knowing [that knowledge] is current, is powerful. Knowledge is power, but how you use it is what makes the difference."
Meet more of AIU's industry-specialist faculty: Watch our faculty video series.