Starting a Business: 5 Free Ways to Reach Your Target Market
Starting a Business: 5 Free Ways to Reach Your Target Market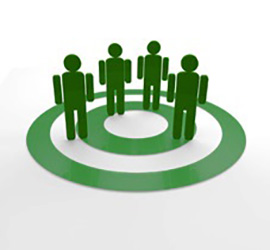 In this series, entrepreneur, business consultant and AIU School of Business faculty member Belinda Smith, Ph.D., will lead aspiring business owners through the essential steps of creating a business plan.
You're just starting a business and you're ready to go, but you don't know how to get started. Begin by answering this key question: Who is your target market?
If your answer is "everyone," then you are doomed to failure. If you can describe your target market using demographic variables and sociocultural factors (gender, economic status, values, beliefs, etc.), then you are on your way to success.
Your target market is a description of the person who is most likely to purchase your product. For example, if your business idea is to design and install home theater systems, then your target market might be men earning $70,000 or more who own their home and value quality sound and video. In other words, a person who is unemployed and does not own a home is not likely to purchase a home theater system from you.
After identifying your target market, you need to determine how you can contact that audience and let them know what your business or product has to offer. There are many avenues for contacting your target market, but let's start with the options that are the most budget-friendly: free opportunities.
1. Radio Talk Shows
Local radio stations can describe the people listening to their station based on the time of day or topic discussed on their talk shows, and they may have an audience that includes your target market. After presenting a seminar about a product my company provided, the owner of a radio station asked if I would be willing to host a community talk show that discussed my products. Of course, I said yes.
However, if you are not asked by a local radio station owner to host or be interviewed on one of their talk shows, listen to their local radio stations. Normally, local radio talk shows are on AM stations. If your product or services fit within a host's topic, send a query letter letting them know you are interested in being on their show. The only work you will need to do is show up and be an expert on your topic. The radio station will make sure you are on the right show at the right time. Also, they will let you introduce yourself to their audience and likely, provide contact information for free.
---
RELATED: Starting a Business? How to Create Your Marketplace Niche
---
2. Local Seminars
Are you a member of an organization that has a meeting room? Is there a local library in your area? Can you discuss the benefits of your product without promoting your business every minute? If so, contact your club, religious group, or local library and volunteer to discuss helpful information about your product and similar products on the market. For example, if you plan to offer music lessons to children ages 2-4, provide a seminar that discusses the benefits of children learning music at that age. Better yet, provide a free one-hour session teaching parents how to introduce their children to music. After the seminar, talk to participants but don't make it a hard sell — only offer your contact information if they ask for it.
3. Community Television
Community television is normally where non-profits talk about their products. However, if your product is innovative and satisfies a community need, you may be able to discuss the benefits of that product. For example, a representative from a for-profit senior citizen daycare center can discuss the benefits of a senior daycare center in their community if there is a large number of working adults in the area providing care for their senior parents. Contact your local community channel to discuss how your product can benefit the local community. You are not allowed to promote your business specifically, but you can provide your name and contact information to the audience during the broadcast.
4. In-Person Social Networking
Are you a member of a club or social group? Do you attend meetings, seminars and conferences? At these events, mingle and get to know the participants there. Odds are you have something in common with them. If they ask what you do, tell them. If they ask for a business card, have one available to give to them. Some people pay money to join networking groups. If you want to save yourself some money, participate in clubs, social groups, meetings, seminars, and conferences where your target market is likely to attend; then mingle.
5. Written Media
Magazines, newspapers and newsletters are always looking for articles that are of interest to their audience. Show your expertise about your product by writing an article about a topic related to your product or an overview of the product itself. Follow the publisher's guidelines and provide topics they need. At the end of the article, your name should appear along with your title. This will make it easy for consumers to find your contact information on the Internet.
Have you had success reaching your target market at low or no cost using other methods, or are there additional avenues you're exploring? Share your ideas by clicking the comments link at the top left.
Interested in more business-related posts? Find them on the AIU business blog.
Thinking about the next step in your path?
Download the guide: "The Value of a Business Degree in Today's Challenging Economy."