Phone Interview Tips: Four Mistakes to Avoid
Phone Interview Tips: Four Mistakes to Avoid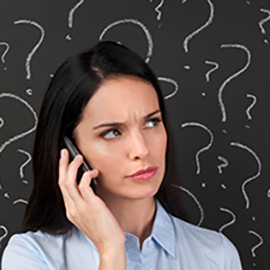 You put in a great deal of effort crafting your resume. You carefully researched companies and opportunities. You applied for the positions you felt were the best fit. Then, one day, you are contacted to set up a phone interview. How do you prepare? Be sure to avoid these common mistakes.
1. Take the 'come as you are' approach to wardrobe
While you may be at home, this is no time to lounge around in your pajamas. Dress for success. There is a theory that if you dress professionally, you feel professional, and you'll come off as a professional. For your phone interview, dress the same as you would for an in-person interview. You'll look – and feel – sharper.
2. Have a spotty cell phone connection
While using a land line is preferred, not everybody has one. If you are using your cell phone for an interview, make sure you are in a place that gets a great signal. Also, make sure that you are in a quiet environment. Nothing can ruin an interview faster than having the employer distracted with a noisy background. Be sure to have a pen and piece of paper with you to take notes. This will allow you to ask questions, refer back to important topics, and get the interviewer's contact information for a follow-up thank you letter.
3. Underprepare for the Interview
Focus is the key to this type of interview. Understand the questions that are being asked, and most importantly, answer the question being asked. For example, if you are asked for your greatest strength, discuss ONE strength and why it is your greatest. There are no one-word answers. If you feel you can answer the question in less than three words, add an example to back up your answer. To make sure you put your best foot forward, prepare ahead of time for these three common types of questions:
Many interview questions are situational questions. Typically, they start with, "Tell me about a time when …" For these, use the STAR method: Situation, Task, Action and Result. Take the interviewer through the entire story.
"Tell me about yourself." Interviewers don't want to know your life story; rather, they are interested in your working background. Discuss your education, your work experience (highlighting relevant responsibilities and accomplishments), and where you are looking to take your career.
"Why do you want to work for us?" Be sure to research the company beforehand. Talk about the areas of the company that interest you. They don't expect you to know everything about them, but they do expect you to know something.
4. Take too long to say thank you
Since there is no drive home after a phone interview, try to send a thank you letter within two hours. It may also be a good idea to connect through LinkedIn. If you are sending an e-mail, be sure to follow professional email etiquette.
Learn more about getting your career moving in the right direction. Download our guide, "How to Go From the Job You Have to the Career You Want."