Starting a Business: How to Write a Vision Statement
Starting a Business: How to Write a Vision Statement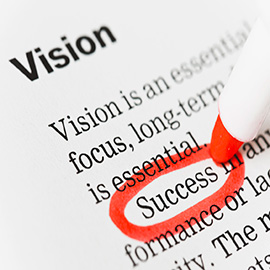 In this series, entrepreneur, business consultant and AIU School of Business faculty member Belinda Smith, Ph.D., will lead aspiring business owners through the essential steps of creating a business plan.
As we covered in my last blog post in this series about starting your own business, a mission statement informs stakeholders about the business products, how the products are provided, and who will use these products. Writing a vision statement, on the other hand, is about providing management's view of the company's future and the rationale as to why this direction makes good business sense.
In many companies, the mission statement and vision statement are combined into one statement. However, when the vision statement stands alone, it is normally one sentence designed to articulate top management aspirations and steer the company in a common direction. For example, Bill Gates and Paul Allen's founding vision for Microsoft Corp. was, "A computer on every desk and in every home."
Upper-echelon leaders and entrepreneurs must have a vision for their organization if they want to lead their business to success. A vision statement informs stakeholders of a firm's strategic intent to focus company resources on achieving a rational and believable future. An effective vision statement paints a picture of the company's future that is easy to communicate. Therefore, most vision statements are catchy slogans. For example, Microsoft Corporation used the statement above for 25 years; then, the company's vision changed to "Empower people through great software – any time, any place, and on any device."
How to Write a Vision Statement
To get started writing the right vision statement for your organization, visualize how your business will operate in the future. Visualize how your product will be used by consumers in the future. Know your market. Then write a statement that is graphic, focused, reasonable and easy to communicate.
---
Related: Starting a Business: Do You Have What it Takes?
---
After developing a vision for the company's future, long-term objectives must be written to move the organization toward that future. Successful companies will have both financial and strategic objectives. Financial objectives are based on increasing the company's financial performance. Strategic objectives are focused on improving the company's competitiveness and increasing its market share. Concentrate first on the company's strategic objective unless the company is struggling financially. Objectives should be written to increase the business market while ensuring the company's survival.
To move a company toward its vision, you will need both long-term and short-term objectives. Long-term objectives are goals that will need to be accomplished in three to seven years. Short-term objectives are goals that need to be accomplished within three years in order to meet long-term objectives. All objectives must be measurable and contain achievable deadlines.
When you write a business plan, it is important that you include your mission or vision statement. Then include at least two long-term company objectives – one financial and one strategic. Also, include short-term objectives or milestones that you will need to accomplish to obtain your long term objectives. Remember, objectives are goals that need to be obtained in order for the business to achieve its vision. Make sure your objectives will keep employees focused, that they are measurable, and that they are obtainable by the deadlines set for them. Examples of long-term objectives included in a business plan are:
The objectives for the first three years of operation include:
To create a service-based company whose primary goal is to exceed customer's expectations
To develop a sustainable home business, surviving off of its own cash flow
To increase the number of clients by 15% per year
In the next blog, we will discuss business structures. You will need to decide if you are going to form a sole proprietorship, partnership, or corporation. The business structure you select will contribute to the business success.
Interested in more business-related posts? Find them on the AIU business blog.