How to Be a Good Student in College
How to Be a Good Student in College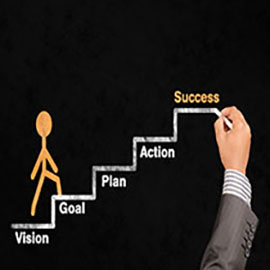 What are the characteristics of a good student? If you ask this question to 20 people, you're going to get 20 different answers – and most likely, they will all be right. It can be hard to pinpoint the exact combination of qualities needed to be successful in school, since your needs, schedule, job, family – everything, really – can change throughout your degree. However, no matter who you are, achieving your goal of earning your degree takes passion, hard work, and a little help along the way. If you're wondering how to be a good student in college, below are five tips to help you get started.
1) Know yourself, and play to your strengths. Are you an early bird or a night owl? Do you like to do a little bit of an assignment every day, or would you rather do it all at once? Do you memorize the information after the first reading, or do you need to write it down and review it? It doesn't matter what your answers are, but you need to be able to answer these questions. Once you do, you can create an action plan that will allow you to use your strengths, such as spending an hour before work every day writing your paper, or going to the library for five hours on a Saturday to avoid distractions. Whatever works for you, do it!


2) Plan ahead. Just as important as it is to know yourself is to know your schedule. Have you ever written down everything you do in a day? It's probably more than you think! This exercise may also reveal to you hidden "nuggets" of time to fit in some reading or research. It's also important to plan ahead if you know you will be out of town, spending extra time on an important work project, or have a weekend full of kids' baseball games.


3) Ask questions. You've probably heard it before, but communication is key! Instructors really like when students ask questions or reach out: it shows an interest in wanting to learn and a dedication to doing well in the class, and it's one of the key qualities of a good student. Your instructors want to talk about the class, share what they know, and help you succeed. Make sure to know when your instructors' office hours are and how else you can contact them.


4) Keep your eyes on the prize. You didn't start your degree "just because." Why are you here, and what do you want? Whether you're aiming to get a promotion at work, earn a different or higher-level degree, complete a goal you've had for 20 years, or something else, there is a reason you have decided to be in school. It can be easy to lose sight of your goal on those tough days, so make sure to share it with family, friends, your boss, and others. Many students will also write their goal down and keep it where they can see it every day, like on the bathroom mirror or computer. Whatever you need to do, stay motivated!


5) Make school a priority. One of the top reasons that students don't get their assignments done is because they didn't have time to finish them. While it's very understandable, it can also be avoided. Students with high success rates make school, and their grades, a high priority. High-achieving students are willing to sacrifice a little sleep, TV time, or that night out with friends in order to end the class with a high grade. Sacrifice and earning that "A" grade are going to be hard, but you likely know this to be true: Most worthwhile things are!
Looking for more resources and advice on how to be a good student in college? Read our College Success blog