College for Working Adults: Strategies for Success
College for Working Adults: Strategies for Success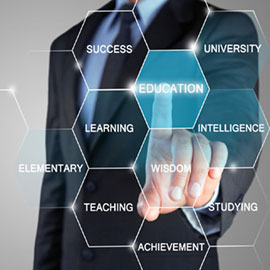 Online education has opened new pathways to college for working adults. The flexibility and availability of online colleges and universities has resulted in more opportunities for adults to pursue higher education, either to complete a degree in progress or begin a new program of study.
Adding online coursework to an already busy schedule of work and family life can be challenging, but many people have found it possible with solid planning and determination. If you're contemplating college but have concerns about successfully blending academics, family life and your career, careful planning may smooth your transition and set you up for success. Identifying the skills and tools you'll need to manage the different areas of your life in advance can help you launch yourself into a successful college experience. Here are some tips for adults returning to college.
Research Your Financial Options. College scholarships for adults are readily available; the challenge is finding them. Resources such as FastWeb offer access to information about scholarships offered specifically to adult students. Devote some time to looking for college grants for adults, too. Unlike scholarships, which tend to be merit-based, grants often are distributed based on need or specific circumstances. When researching universities, be sure to explore the institutional grants available. Additionally, all new students should complete the Free Application for Federal Student Aid (FAFSA). This is a vital first step in exploring how to finance your education, as the FAFSA is required to determine eligibility for federal student aid. (You can also refer to our blog post on FAFSA deadlines for more information on important dates to be aware of.)
Evaluate Your Time Management Skills. Take a careful look at your current schedule and ask yourself how well you're using the time you currently have. If you're already rushing to accomplish important daily tasks, improving your ability to manage time before you return to school is a good idea. Adding several hours of courses and studying to your schedule will require you to re-prioritize, and possibly cut back on some activities and hobbies during the semester. Using your time effectively is a skill that can be learned.
Enlist Your Employer. The idea of maintaining a full-time job as a full-time student might feel overwhelming, but it offers some benefits as well. Often, adult students are hesitant to share their academic goals with their supervisors and colleagues, fearing it will make them look less committed to their job. But it's a good idea to share your plans. Even though online education is more flexible than a traditional brick-and-mortar college, you still may need to make some modifications to your work schedule. Also, it's possible your employer offers tuition assistance, which is worth looking into.
Create a Study Space. We live in world where we can work and study anywhere, thanks to portable technology and increased access to Wi-Fi. But just because you can study anywhere, it doesn't mean you should. If you're managing a hectic schedule full of family, career and academic responsibilities, you may feel the only way to succeed is to study on the fly. But you can create a more stable and controlled environment if you choose a specific space in your home for studying. Try to create a space for yourself that is quiet and well-organized with the needed materials. Even if you're only able to carve out a small corner for yourself, designating a spot may help you focus.
Ease Your Way In. Though attending school full-time can enable you to complete your degree program sooner, you may want to begin by attending part-time. If you've been away from school for an extended period, taking a smaller course load may be a good way to begin. This approach allows you to make the change slowly, and can help identify any gaps in your education strategy. As you become acclimated to the life of a student, you can increase your academic load as needed.
Adults returning to college can find success with advance preparation and thoughtful planning. Advancing your education can have a long-term impact on your career success, because you'll be expanding your knowledge and skills and opening new possibilities for yourself. The above ideas can help facilitate the transition to college for working adults and ease the adjustment into this important step forward.
Ready to learn more? Explore online degrees at AIU.