7 Skills Every HR Job Recruiter Needs
7 Skills Every HR Job Recruiter Needs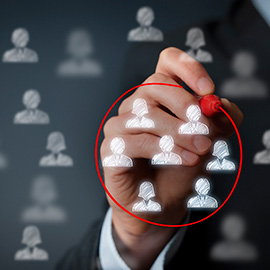 Job recruiters are essential to ensuring that a company has the employees and the resources it needs to achieve its goals. Typically part of the human resources team, an HR recruiter works with department managers to help them fill new or vacant positions with candidates that fit their needs. This requires not only a good working knowledge of one's company and the skill sets and experience required for most major positions, but also the ability to gauge how well a prospective employee fits into the company culture.
What Do HR Recruiters Do?
A recruiter's primary role is to help find and place qualified employees in positions throughout their company. They may help create job descriptions and post listings, screen applications, reach out to potential hires, arrange and schedule interviews, and work with applicants to determine their strengths and weaknesses. Some recruiters may just screen applicants and conduct initial phone interviews, while others are involved in further stages of the hiring process like second and third interviews, contacting references, and drafting a job offer.1
Key Strengths and Skills for Recruiters
Because human resources recruiters work with a variety of departments and often deal with large applicant pools, they need first and foremost to have an outgoing personality and enjoy working with people.
Some other essential qualities of a good recruiter include:2
Great Communication Skills – This one may seem like a no-brainer, but the vast majority of a recruiter's job is communicating with potential hires, internal department managers, or sometimes fostering relationships between the two. A recruiter must be comfortable with talking on the phone, sending emails, and having numerous face-to-face conversations throughout the whole day.
Personable and Outgoing – It's important to remember that recruiters are also acting as representatives of a company. They need to make job candidates feel comfortable while also projecting a welcoming image of a workplace where interviewees would like to work.
Detail-Oriented Interviewer – Interviewing applicants is about more than just recording their answers to pre-set questions. A good recruiter tries to develop a clear, specific sense of what kind of employee a candidate might be through methods like behavioral interviewing and strong, detail-oriented observation skills.
Good Multitasker – Recruiters deal with many applications for many different positions all the time. Between fielding callbacks from various applicants to juggling interview schedules for several department managers at once, it's important to be able to multitask effectively.
Willing to Travel – Depending on the size of the business, recruiters may need to travel to colleges or job fairs to find strong candidates or increase interest in openings at the company.
Organization – As with any human resources position, recruiters must complete lots of paperwork and maintain records, so strong organization skills are a must.
Strong Decision-Making Skills – Employers rely on a recruiter's good judgment and ability to choose the right candidate(s) for open positions, so they must be decisive and confident when making hiring recommendations.
Do You Need a Human Resources Degree?
Many employers require a bachelor's degree in human resources, business administration, or a related field when hiring HR specialists such as recruiters.2 A degree program typically will cover a wide range of human resources topics as well as helping students to develop strong interpersonal and managerial skills. Courses may include employee recruitment and screening strategies, interview and candidate assessment methods, corporate policy, conflict resolution, and more.
Those who are already working in an HR position and want to move into a recruiter role may also consider completing courses or a certification program from professional organizations like the Society for Human Resource Management (SHRM).
Ready to learn more? Explore online human resources management programs at AIU.
---
1. Bureau of Labor Statistics, U.S. Department of Labor, Occupational Outlook Handbook, 2016-17 Edition, "What Human Resources Specialists Do," on the Internet at http://www.bls.gov/ooh/business-and-financial/human-resources-specialists.htm (visited February 14, 2016).
2. Bureau of Labor Statistics, U.S. Department of Labor, Occupational Outlook Handbook, 2016-17 Edition, "How to Become a Human Resources Specialist," on the Internet at http://www.bls.gov/ooh/business-and-financial/human-resources-specialists.htm#tab-4 (visited February 14, 2016).