5 Ways Adult Students Can Overcome Anxiety When Returning to College
5 Ways Adult Students Can Overcome Anxiety When Returning to College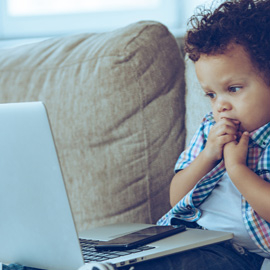 You're doing it. You're going back to college after years – perhaps many years – out of school.
After the deliberations of selecting a degree program and a school have ended, you're faced with a new challenge – what can I expect after being away from my studies for so long?
Take a moment to think back to your early childhood. We are placed in preschool or kindergarten before we can make the decision that school can benefit our futures. As we are shuttled through elementary school, middle school and high school, many of us stay focused on the goal of college. Many see college as the ticket to a secure and financially stable future. In fact, according to the U.S. Bureau of Labor Statistics, people who have a bachelor's degree earn 68% more per week than those with a high school diploma alone.1
Unfortunately, sometimes life happens, and our best-laid plans may get derailed. As a result, finishing that degree is placed on the backburner. Whether you have spent time in a career that no longer fits your aspirations, are interested in better supporting your family or are seeking a new challenge, returning to school may appear to be the logical choice. So why does going to college as an adult make many of us anxious?
It's natural to be nervous when you're approaching a new challenge and don't quite know what to expect or how you'll make it work with so much already filling your schedule. To help ease your mind and get prepared, take these five ways steps to help overcome your reservations about going back to school:
Prepare a pros/cons chart. Draw a line down the center of a piece of paper and write down the pros and cons of the following statement: What do I stand to gain or lose if I return to school for a degree now? A few examples of what you may write on the pros side are the potential for increased opportunities, the pursuit of higher-level positions, improved communication skills and the chance make new connections. Keep this list in a visible area of your home that you can refer to if you get discouraged or anxious about making the return to school.
Speak to someone attending your chosen school. There's no better resource to chat with about your decision than someone who was recently in your shoes. If you have a friend or family member that can give you their honest opinion about their commitment to coursework, time invested and the benefits they have realized as a result of returning to school as an adult, this can serve you well. If not, get connected with a mentor from the AIU mentor program (call your Student Advisor to find out how).
Be honest about your family and work obligations. There will be times when you will have a group project to prepare or a final exam that requires extra hours of studying. If you can, use your lunch time to get an additional 30-45 minutes of study time during the day before you return home. Set aside time on your weekends or days off to ensure that you can complete your schoolwork with no interruptions. Your family can also support your efforts if you establish set studying times where you are not to be disturbed or if you allow your family to be a part of your study routine.
Celebrate the small victories. By establishing short-term goals that lead directly to your bigger goal of completing your degree, you can remain focused on the task at hand. For example, you can celebrate with your family by going out for ice cream if you get an "A" on an exam, or you can treat yourself to a nice dinner or a fun family outing after each session ends. Whatever it takes to motivate you to keep going, do it!
Remind yourself education is a journey, not a destination. If you attempt to race through your degree program to simply check the box of graduating, you may miss some of the valuable elements of returning to school. Going back to school means you are opting to expand your current frame of thinking, and you are willing to challenge yourself to see the world differently. Seek opportunities to do research in your intended field of study to test out new theories. Learn from professors who have dedicated their lives to a particular field of study; this can reshape the way you approach areas of your professional and personal life. Finally, network with your classmates and learn from their respective experiences in the world. If you only come away with a piece of paper after you complete your degree program, you will have missed out on a great experience.
Interested in more study tips? Read our College Success blog.
---
1. Bureau of Labor Statistics. "Earnings and unemployment rates by educational attainment." March 15, 2016. Retrieved from www.bls.gov/emp/ep_chart_001.htm">https://www.bls.gov/emp/ep_chart_001.htm. (Visited 1/23/17). Based on median weekly earnings. These are national projections covering all levels of experience; conditions in your area may be different.