Jobs for a Bachelor of Business Administration
Jobs for a Bachelor of Business Administration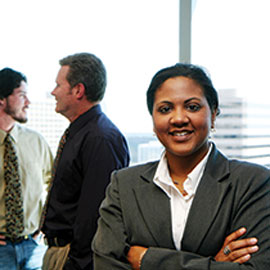 What kinds of jobs are available to someone with a Bachelor of Business Administration degree? Such a degree helps prepare graduates to manage people. Business degrees often offer many specializations that can allow a person to focus more intently on a field of interest. One option for someone seeking such a degree is a human resources management major. Such people can learn about business coaching, benefits analysis and recruiting. It is sometimes possible to earn a degree online. Other types of jobs for those who seek a different major are available and will be discussed also.
Those who earn the degree can often look for jobs in the fields of human resources or business, labor relations, and industrial relations. Some topics students can study while in school include employee compensation, contract negotiation, employment law, training development, managerial accounting, and organizational theory and behavior.
Specific careers available to graduates may include employment resources, employee benefits, human resources, occupational analysis, and human resources development specialist. When looking at potential careers, some positions – especially generalists, managers, consultants, chief officers, and analysts – not only require education, but also require training, and years of experience.
A human resource manager, recruits, gives guidance, direction and manages employees. He or she deals with hiring, compensation, organization development, performance management, wellness, safety, organization development, employee motivation, wellness, safety, administration, training, and communication.
An effective human resource manager is important to the overall productivity of a company.
A human resources generalist is responsible for organizational development, staffing, recruiting logistics, improvement systems and performance management. Not to forget compliance and employment to regulatory concerns, reporting, space and organizational planning. Employee training, orientation, organizational development, employee counseling, employee wellness, welfare, safety are some additional responsibility of a human resource generalist. [bls.gov]
A human resource manager will also manage the daily operations of a Human Resource office; administer procedures, human resources policies, and programs in the office.
An employee benefits manager is responsible for administering and developing employee benefits programs. Such programs can include life and medical insurance, pension plans, including 401(k) retirement plans, and education benefits. An employee benefits manager also designs, researches and evaluates benefit options offered by a government or business agency. In addition, managers may provide financial counseling for employees who are soon to retire.
This job has become more complex in recent years. Besides pensions and insurance, many companies offer other benefits as homeowners' insurance, dental and optical insurance, accidental death and disability insurance, thrift savings plans and stock options, making an employee benefit manager important to companies.
An occupational analyst integrates, analyzes, and researches occupations to devise and develop plans for worker relationships. Maintain and modify an occupational classification system, provide industry, government and business with the necessary information to use a work force, make plans for surveys and studies are some other responsibilities associated with this job.[http://www.webster-dictionary.org/]
Not to mention, prepares information obtained to publish charts, books, brochures, manuals, and films, make reports and descriptions of job duties. An analyst is also responsible for job restructuring, employment and government programs. He, or she may also provide technical assistance to government agencies, public and private companies.
A human resources development specialist is the person responsible to ensure a company is properly staffed. He manages the company's personnel, recruits possible employees, checks references, conducts interviews, and negotiate wages. Human resource development specialists are responsible for a good deal of the administrative paperwork for new employees, enroll them in benefits, including such things as direct deposit, 401K plans, and healthcare options. When someone is hired a specialist may work to resolve internal conflicts, evaluate job performances, employees, and conduct job training. [hru.gov]
Other types of jobs that could be pursued with a degree in business administration include positions as an operation manager, administrative assistant, Executive assistant, and marketing manager. [payscale.com] A graduate can also aim for positions as budget analysis, budget risk consulting (one who determines possible problems a business could face), a chief financial officer (one who oversees operations including manufacturing, marketing and property management , and research and development), and chief lending officer in a bank, credit union, or savings institution. Many of these positions require a significant amount of professional experience in addition to a business education.
---
http://www.payscale.com/research/US/Degree=Bachelor_of_Business_Administration_%28BBA%29/Salary
http://www.bls.gov/ooh/Business-and-Financial/Human-resources-specialists.htm
http://careers.stateuniversity.com/pages/207/Employee-Benefits-Manager.html