Take the next step. Classes Start July 20, 2022
Complete this form and an AIU Admissions Advisor will contact you and provide further assistance.
AIU's Online Bachelor's Degree in Business Benefits
Save up to 25% on your master's degree by taking graduate courses in your bachelor's program1
Our business programs are programmatically accredited by the Accreditation Council for Business Schools and Programs (ACBSP).
AIU accepts up to 75% of the qualifying transfer credit needed toward a degree.
intellipath® allows you to personalize your learning plan and skip what you already know to have a more efficient educational experience.
Convenient and flexible online courses offer options designed to work around a busy schedule and allow you to read, listen to, or watch customized course content from any web-enabled device.
Our tuition and graduation date calculator can give you a general idea of how much it will cost to complete an online program at AIU based on the information you provide.
24/7 technical support team available.
With 12 specializations to choose from, you can find the right program to align with your goals. Our bachelor of business administration online degree programs are designed to provide you with an introduction to various fundamentals of business operations. Our online business degrees can help you hone your skills and further develop your understanding of modern business practices.
Online Accounting Degree
Our online bachelor's degree in accounting will give you the opportunity to develop a broad overview of the accounting system and exposure to the subfields of micro- and macro-economics, cost accounting, managerial accounting, and accounting in finance and taxation.
Online Bachelor's Degree in Business Administration
Our online bachelor's degree in business administration program is ideal for those who are interested in developing their business acumen. In this curriculum, you can study subjects such as accounting, finance, marketing, human resources, and project management.
Accounting
Our online bachelor's degree in business with a specialization in accounting gives a broad overview of financial reporting, including business concepts, ethics and regulations. In this curriculum, you can work to develop industry-specific knowledge related to the fundamentals of accounting, cost accounting, and information systems.
Online Entrepreneurship Degree
Our accredited online entrepreneurship degree program focuses on the skills needed to start a new company from scaling a business plan to management and leadership skills. The primary objective of the program is to experience the challenges of starting and financing a new company. Coursework will include budgeting, taxation, and exploring advanced entrepreneurship.
Online Finance Degree
Our bachelor of finance online program can help you understand key components of financial decision making, while examining the implications of forecasting, capital budgeting, working capital management and project risk management. Specialized coursework focuses on financial-management techniques related to capital expenditure, investment types, and economic analysis.
Healthcare Management
Our healthcare management business degree program allows you to explore management issues in healthcare, such as the environment of care, performance improvement, risk assessment, and managing diverse workforces. Curriculum showcases awareness of ethical and legal issues in healthcare as well as resource allocation and policymaking.
Online Human Resources Degree
Our online human resources degree program allows you to immerse yourself in the study of the recruitment process, employee selection, and human resources record keeping in business organizations. Coursework covers the fundamentals of personnel and organization policy, the essential functions of recruitment and selection, as well as training and development techniques.
Le Cordon Bleu® Hospitality Management
Our online hospitality management degree program is designed to provide an understanding of business management as well as introduces students to concepts and practices related to event management, food and beverage management, and food service operations. Topics include planning, organizing, leading, and controlling a foodservice establishment, as well as how to develop the practices of successful small business managers in the hospitality industry.
Online Business Management Degree
Our online business management degree program gives you an opportunity to learn about organizational change, the role of managers, and cultural differences in the field of management. Specialized coursework addresses diversity in the workforce, personnel and organization policy, and experiential approaches to organizational development.
Online Marketing Degree
Our bachelor of marketing online degree program can immerse you in a study of how marketing professionals play a key role in helping a corporation stay competitive in the global marketplace. Coursework emphasizes the application of planning and implementation, as well as the control and evaluation of marketing strategies. Additional topics cover marketing management, consumer behavior, and advertising and promotion management.
Operations Management Degree Online
Our operations management degree program online is designed to give you the opportunity to examine the elements of management and leadership as they apply to global organizations. Curriculum includes design, management and improvement of production processes with an additional focus on the basic principles of supply-chain management in modern organizations.
Online Project Management Degree
Our online project management degree program is designed to provide you with a broad overview of project design, structure, processes, tracking systems, and methods for dealing with related leadership issues. Coursework includes topics such as cost and time management, how to enhance management outcomes, and methods for building teams and resolving conflict.
Online Technology Management Degree
Our online technology management degree program is designed to provide core knowledge in this area of study. Curriculum intertwines business management competencies with an understanding of information technology building blocks such as hardware/software, networking, databases, and security. Coursework topics explore management information systems, information technology security, and project management.
---
The business world moves fast. Prepare for the next step.
Step up and Save up to 25% on Your Master's Degree by taking master's classes in your bachelor's program.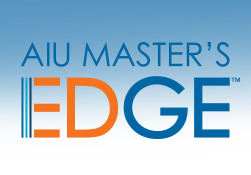 It takes experienced professionals to help you become one.
Much of the knowledge you'll have the opportunity to develop in the classroom comes from our faculty's experience in the field. Among our AIU faculty are recognized industry specialists, many of whom have served as executives and entrepreneurs.
AIU One-Year Online MBA Program
Pursue AIU's one-year online MBA program. Designed with 24/7 flexibility for busy professionals, this accredited MBA program can be completed in less than 12 months.
Watch Amanda's AIU Success Story and Get Inspired
She left college to raise her kids and struggled to make ends meet as a single mom. Then, a friend recommended AIU. Meet Amanda Schmeichel and she what she has to say about AIU.
"If I wouldn't have gotten my education, I'd still be stuck at the point where I couldn't progress any further. I would still be stuck there wondering if there was a way out."