Information technology plays a role in a number of industries in the modern era, and according to the Bureau of Labor Statistics, employment of computer and information technology occupations is projected to grow 15 percent from 2021 to 2031.1 American InterContinental University offers both online bachelor's and online master's in information technology programs. Students in AIU's online IT programs have the option to specialize in the areas of cybersecurity, project management, network administration, or software development.
AIU's Online Degree Benefits
intellipath® allows you to personalize your learning plan and skip what you already know, resulting in a more focused and personalized educational experience.
Online courses offer flexibility and convenience for those with busy schedules, allowing you to read, listen to, or watch customized course content from any web-enabled device.
Tuition and graduation date calculator can give you a general estimate of how much it may cost to complete an online IT degree program at AIU based on the information you provide.
Students enrolled in AIU's online IT degree programs have access to our 24/7 technical support team.
All BSIT students are eligible to receive a discounted rate for the CompTIA examination fee2, 3 once certain courses have been completed successfully in residence with AIU.
AIU's online IT degree programs are designed to help enhance your skills and let you work at your own pace, so you can use your knowledge and experience to move faster through topics you already know. For those seeking an accelerated, online IT program experience, our customized course content lets you pick the learning style you're most comfortable with to help you move swiftly toward earning your online IT degree.
Bachelor's Degree IT Programs
Our online IT bachelor's degree program curriculum focuses on current technology trends and applications, providing an educational foundation for students interested in pursuing a career path in IT. Subjects include the function of information technology components and how they provide the base to store, network, process and manipulate, and disseminate information.
Concentrations and their respective elective course requirements for the Bachelor of Science in Information Technology program include:
The core courses required as part of earning a bachelor of IT online may help you acquire problem-solving skills and knowledge in operating systems, programming and logic, database systems, network infrastructure basics, and information systems security.
Master's Degree IT Programs
American Intercontinental University's online master's in information technology programs are designed for working professionals who want to advance their knowledge in the field of information technology. AIU's dynamic, flexible curriculum adapts to changes in the field. This online master's technology program combines essential technology with business and management so that you can continue to expand your knowledge.
Concentrations for the Master of Science in Information Technology program include:
Online IT Degree Program Admission Requirements
No SAT or other standardized test scores are required for AIU's online IT bachelor's degree programs, and no GMAT is required for our online master's in IT programs. Proof of high school graduation or an equivalent program (such as official high school transcripts, high school diploma, or GED certificate or transcript) must be submitted in order to be accepted into AIU's online information technology degree programs. Homeschooled students need to supply additional documentation and should reach out to an Admissions Advisor for specifics. AIU's bachelor of IT online program requires successful completion of 180 credit hours, and our online master's in information technology program requires successful completion of 48 credit hours. Qualifying students may be able to receive prior learning credit for eligible life and work experience to be applied toward their degree.4
See our admissions FAQ page for a list of commonly asked questions regarding undergraduate and graduate admissions. If you can't find the answer to your question here, you should reach out to an Admissions Advisor to assist you.
Online IT Degree Programs
American InterContinental University is a member of the American InterContinental University System. The System is accredited by the Higher Learning Commission (hlcommission.org), an institutional accreditation agency recognized by the U.S. Department of Education. U.S. News and World Report again ranks AIU on its Best Online Bachelor's Programs lists, and the Military Times ranks AIU among its 2021 Best Colleges lists.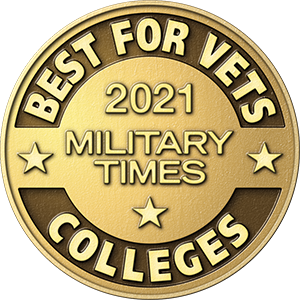 Earn Your IT Degree Online Faster Than You May Think
Students may qualify to transfer credits from other institutions and apply them toward earning an information technology degree online4. For example, if you've earned an associate's in IT degree online or on-campus through another accredited institution, you could potentially apply those credits to your AIU degree's credit requirements, and students who have completed online IT certificate programs or other company training may qualify for proficiency credit awards. Students may be able to transfer in up to 75 percent of the credit requirements for an online IT bachelor's degree, or up to 12 credits for an online master's in IT. Applicants are also encouraged to investigate whether they may qualify to receive credit for life/work experience received outside of the classroom.
Tuition Costs and Ways to Save
American InterContinental University offers different ways to help make earning your IT degree online affordable. We also offer 15 scholarships and grants to help reduce your out of pocket cost. Prior learning credits, military experience, and work/life experience make it easier to complete our IT degree programs online at an accelerated pace, as fewer courses would be required4. Prospective students should use our tuition and graduation date calculator to get an idea of your estimated anticipated costs and graduation date based on your personal circumstances, and all applicants should research various types of financial aid to see if they may qualify for additional savings.5
Why Pursue an Online IT Degree at AIU?
The decision to pursue a college or graduate degree is a major one, and earning your desired degree requires commitment and dedication. AIU's convenient, fully online bachelor's and master's degree programs offer a level of flexibility that could make achieving your educational goals feel more within reach. Whether you've already begun working at IT jobs with an associate's degree, have taken online IT certificate programs to expand your knowledge and your resume, or are hoping to pursue a new career or advance an existing one within the information technology sector, pursuing an online IT degree at AIU could provide you with the right mix of flexibility and support to help realize your goals. Because it can sometimes be difficult to stay motivated, especially in the face of unforeseen obstacles, our faculty, technical support team, online career services resources, and librarians are able to provide assistance whenever you might need it, because earning your degree online doesn't mean you're on your own.
---
1 Computer and Information Technology Occupations, Bureau of Labor Statistics, https://www.bls.gov/ooh/computer-and-information-technology/home.htm (last visited 1/12/23). This data represents national figures and is not based on school-specific information. Conditions in your area may vary.
2 American InterContinental University does not prepare students to take the exam necessary to receive the A+, Security+ or Network+ credential. AIU does not guarantee third-party certifications. Certification requirements for taking and passing certification examinations are not controlled by AIU but by outside agencies and are subject to change by the agencies without notice to AIU. Therefore, AIU cannot guarantee that students and graduates will be eligible to take certification examinations, regardless of eligibility status upon enrollment and/or graduation.
3 Students must contact the office of the Registrar in order to receive the promo code for the discounted exam rate.
4 Transfer credit is evaluated on an individual basis. Not all credits are eligible to transfer. See the University Catalog for transfer credit policies.
5 Financial aid is available for those who qualify
Take the next step. Classes Start October 25, 2023
Complete this form and an AIU Admissions Advisor will contact you and provide further assistance.
What Students Are Saying About Their AIU Experience
I could complete schoolwork and review class materials during time periods that were convenient for me. I wouldn't have been able to go to school [in-person] while working 80-90 hours a week.

Floyd S., Former Student 2019 Graduate, BSIT with a concentration in Information Assurance & Security
The Degree was all research-based. Before my degree, I didn't know what to look for [or] what I wanted to do. The courses made me want to learn more. Now I can be more useful to any team I'm on.

Robert M., Former Student 2022 Graduate, BSIT with a concentration in Software Development & Analysis
Meet an IT Faculty Member
Andrew Mahaney
In addition to teaching information technology courses at AIU, Andrew Mahaney is currently a lead software engineer for global security and defense technology company Northrup Grumman, where his experience includes work on the new PATRIOT Missile Interceptor Defense System. As part of his nearly 30-year IT career to date, he also spent 15 years working in the defense industry, including the FBI and National Security Agency (NSA), and 10 years as an intelligence specialist for the U.S. Marine Corps. and U.S. Army.