How to Answer Open-Ended Interview Questions
How to Answer Open-Ended Interview Questions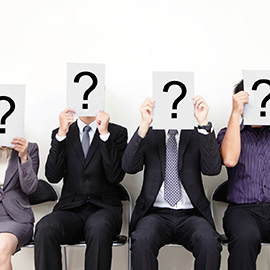 Perhaps it feels you've been hearing a lot of open-ended interview questions lately, such as, "Tell me about a time when …" or "What would you do in this situation?" It's not your imagination – more and more interviewers are starting to ask these kinds of behavioral or situational questions.
If you feel confused about the best way to answer, you're not alone.
Enter the STAR Method: situation, task, action and result.
The STAR method can help you anytime you need to provide an example or tell a story to demonstrate your knowledge or skills. It's a great tool to help show your interviewer your experience and skills rather than just telling them. Essentially, the STAR method can help you answer these open-ended interview questions while proving that you have the skills and knowledge that you say you do.
Here's how to use it:
Situation. Open your story and briefly give some background for the situation. Describe the setting and context of the issue. Make sure to cover the key bases in this opening and include who, what, where, when, etc.
Task. Explain the task that you were responsible for carrying out and emphasize any specific obstacles or challenges tied to the specific issue.
Action. Illustrate your story with the specific steps you took to resolve the problem at hand. Make sure to mention traits and relevant skills interviews want to hear about that you utilized in this instance (leadership skills, analytical skills, customer service, empathy and understanding, or whatever applied to the situation at hand).
Result. Close the story with the outcome of what happened. If you have any figures or statistics to quantify the result, include them; this helps bring closure to your example and supports that you were able to successfully complete the assigned task.
Let's review an example of the STAR method in action. Consider an open-ended interview question such as, "Tell me about a time when you had a problem arise at work and how you resolved it." While this question is somewhat vague, using the STAR method can help you to outline a specific situation and clearly show how you used problem-solving skills. Here is an example of an answer to this question using STAR:
While working at Company XYZ as a Sales Representative, I remember one particular situation in which a customer came in and was very unhappy with a product he was sold at our store the week prior. I took initiative to communicate with him regarding the issue with the product and let him explain why he was displeased with it. During this time it was very important to make sure I understood the issue with the product, his complaints, and then show that I was as concerned about his problem as he was. I was able to exchange the defective product he purchased for a brand-new item and demonstrated to him that it was working correctly before he left the store. By ensuring that the same issue with the product would not occur again, we were able to secure his return business for other products and services, and he has remained a loyal customer to us ever since this incident.
Can you pick out each of the elements of STAR used in the example above? Try writing out some answers explaining a story or situation using this method and then refining your answer from there for an interview. This can be helpful for both phone interviews as well as more in-depth, face-to-face interviews.
Interested in more posts on job search-related topics? Check out our Career Development blog.
If you're a current AIU student or alumnus looking for more career advice, please contact the Career Services Department at 877-221-5800 Option 5 or at careerservices@aiuonline.edu.